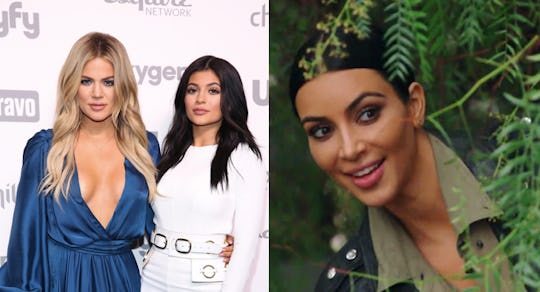 Robin Marchant/Getty Images Entertainment/Getty Images, E! Entertainment
11 Times The Kardashians Trolled Us All About Khloé & Kylie's Damn "Pregnancies"
Two out of the three Kardashian sisters who are reported to be expecting a baby still haven't confirmed or denied the rumors. And for some reason, it seems as if they derive great pleasure from messing with fans via cryptic social media posts. Whether it's featuring items that are blue or pink, making specific references to "babies," or posting a photo of literal buns in an oven, (Come on!) I'm convinced the sisters — I'm looking at you, Khloe and Kylie — get together and come up with ways to drive us all bonkers before officially announcing (or denying) their pregnancies on Keeping Up with the Kardashians. Here are 11 times the Kardashians totally trolled fans about the pregnancies.
If you think about it, not directly addressing the pregnancy rumors makes sense from a ratings standpoint; it gives fans all the more reason to tune in to their E! reality series. However, just because the family has decided to hold off confirming or denying the baby news doesn't mean they can't have fun with cryptic messages that fans can dissect until their eyes cross. And it's not just Khloe and Kylie who are guilty of trolling fans. Both Kim Kardashian and Kris Jenner have taken part, even if it is without realizing it. Here are some of the best trolling by the Kardashian/Jenner family.
1. When Kylie Jenner Said She Was Thankful For Her "Babies"
"I have SO many things to be grateful for this year! I know I'm one lucky girl," the Kylie Lip Kit creator wrote, according to Us Weekly. "With Thanksgiving coming up this week, I'm reflecting on it all and anticipating everything next year will bring." Jenner listed her family, her friends, Kylie Cosmetics and one other thing. "Last, but definitely not least … my little babies!" she wrote — about her four dogs. "They may drive me crazy sometimes, but Normie, Bambi, Harlie, and Rosie … I love you!!!" Ugh. Seriously?
2. All Of The Possible Hints At The Sex Of The Rumored Baby
The 19-year-old reality star stirred up speculation in September after posting a photo of three iPhone cases on Snapchat. Although all three were from The Kylie Shop, two of the cases were pink and one was blue. She cryptically wrote, "Which one? I'm thinking blue..." also adding a blue heart emoji for good measure. Obviously fans read into that as Kylie having a boy, even though nothing has been officially confirmed.
3. When Kylie Jenner Made The "Buns In The Oven"
Jenner posted about three "buns" currently baking in the oven, and of course fans assumed that meant the babies between Kim Kardashian, Khloe Kardashian, and Jenner herself.
4. When Khloe Might Have Hinted At A Baby's Gender
Over Thanksgiving weekend, Khloe started back up the rumor mill with an Instagram photo of pink roses. Pink. The fan comments quickly flooded in with guesses that Khloe Kardashian may be having a girl.
5. Kris Jenner's Holiday Pajama Photo That Set The Internet On Fire
ET Online reports the Kardashian matriarch shared a photo of nine — count them, nine — sets of Christmas pajamas for her grandchildren. "Thank you so much #burtsbeesbaby@burtsbeesbaby#bbbfamjams for the most amazing collection of family jammies ever and i am obsessed with the plaid!" Jenner wrote. "Can't wait to cuddle up with the kids #holidayseason thank you for a collection for every one of my grandchildren." Each one of her grandchildren. Let's count them up, shall we? There's: Mason, Penelope, Reign, North, Saint, and Dream. Officially, Kris Jenner has six grandchildren. However, since Kim Kardashian has confirmed she's expecting a third child via surrogate, that makes seven. Add in the two alleged grandbabies through Khloe and Kylie and viola — nine grandchildren.
6. When Kim Kardashian Was The Queen Of Trolling
Some fans have speculated that a vague Instagram posted by Kim Kardashian on Sept. 3 hinted at the family's pregnancy boom before rumors even started. Kim shared an old shot of herself, Kylie and Khloe from a family vacation to Costa Rica and captioned the photo, "The 3 of us ..." Plenty of Instagram users finished the open-ended hypothesis, "are pregnant."
7. When Kris Jenner Made The "Faucet Of Babies" Comment
On Sunday, Kris Jenner came pretty darn close to confirming her daughters' pregnancies. Or at least that's what it seemed like when Jenner shared what she was thankful for on the special holiday episode of Keeping Up with the Kardashians. "I used to pray that one of you guys would have a baby," Jenner said, according to People. "And now it's like a faucet that that we turned on and it won't turn off, so the fact that I have all these grandchildren — it's been the most amazing journey to watch your kids [have kids]. It's truly the meaning of life."
8. When Kim Kardashian Drank Sardine Smoothie To Avoid Confirming Or Denying
Us Weekly reports that Kim Kardashian recently appeared on The Late Late Show with James Corden, where she participated in a game called "Spill Your Guts or Fill You Guts." This decidedly disgusting version of Truth or Dare proved how much she respected her sisters. "Kim, there have been lots of rumors about your sisters Khloe and Kylie being pregnant," Corden said to Kardashian. "Are they true, yes or no?" After avoiding eye contact and sizing up her options for a moment, the reality star accepted her fate and chugged a nasty sardine shake. Her actions spoke louder than any words.
9. When Kris Jenner Said They'd Need More Cribs
On Nov. 3, Kris Jenner appeared on The Ellen DeGeneres Show and did a stand-up job when it came to not revealing anything about her daughters' alleged pregnancies. Still, there was one maybe-sorta slip-up that fans clung to. DeGeneres revealed a gift package of baby gear for the growing family, which included a crib. "So they'll all sleep in that bed together. I can only give you one bed. One crib," DeGeneres laughed, as the pair was investigating the goodies. "One crib? Maybe they'll have some at the 99-cent store." Jenner joked, hinting that a single crib wouldn't be enough. Because with three grandbabies, it won't be.
10. When Khloe Kardashian Called Tristan "Daddy" On Instagram
Khloe Kardashian's interesting nickname for her boyfriend, Tristan Thompson, has been viewed as a giveaway of her pregnancy status, according to People. On Oct. 30, Khloe shared a video on Snapchat of Thompson's Game of Thrones-inspired Halloween costume. She captioned the slow pan of the basketball player's Khal Drogo costume with, "That's daddy." As in, he's going to be a daddy soon!
11. When Khloe & Kylie Bought Tampons, & No One Knew What To Think Anymore
Cosmopolitan reports that earlier this month, Kylie shared a snap of her snack haul while out shopping with Khloe. But if you look closely — past the pile of Funyuns, Cheetos, Pringles and Hostess snacks — you can see a box of tampons slipped in there, too. Wait a minute. If they're both pregnant, why would they need to buy feminine hygiene products? Just to screw with our heads and throw us off their trail of evidence, that's why.
So far, the family has been so amazing at keeping quiet about the pregnancy rumors, that fans are desperately clinging to any and all possible evidence. I'm hoping the family eventually spills the beans on Keeping Up with the Kardashians.
Check out Romper's new video series, Romper's Doula Diaries:
Watch full episodes of Romper's Doula Diaries on Facebook Watch.