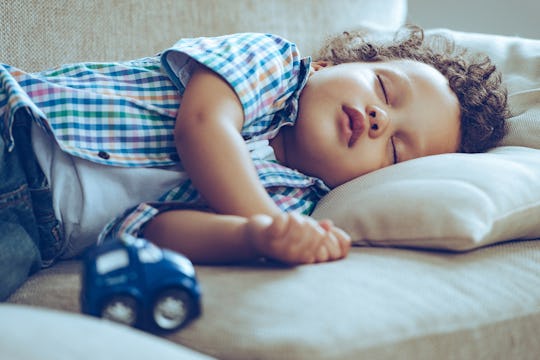 g-stockstudio/Shutterstock
11 Toddler Sleep "Problems" That Aren't Actually An Issue
Convincing your toddler to get a sound night's sleep takes so much effort and patience. It's often a battle where the child end sup winning as the parent gazes down in defeat. In times like these, it's helpful to know about the toddler sleep problems that aren't really a big deal. Sometimes your kid's desire to fight sleep is simply part of growing up.
To a large extent, sleep is a learned behavior. It takes time and practice to learn how to self-soothe yourself into a slumber, fall back asleep after waking in the night, and realize that you are not being attacked by a chainsaw-wielding man in a mask. Heck, I'm a grown-ass woman and I still struggle with the most basic sleep concepts. It happens.
Getting enough shut-eye is crucial for all people, though, especially young children. In fact, toddlers require about 11 to 14 hours of sleep per day, according to the National Sleep Foundation. Despite their need for so much rest, toddlers sure can spent a lot of time fighting sleep. Maybe they struggle with the fear of missing out on fun stuff when they're unconscious? Whatever the case, most kids this age can delay bedtime for hours, and then do some weird stuff when they finally do sleep. Although it can be annoying (and sometimes hilarious), many sleep issues are perfectly normal for this age group.