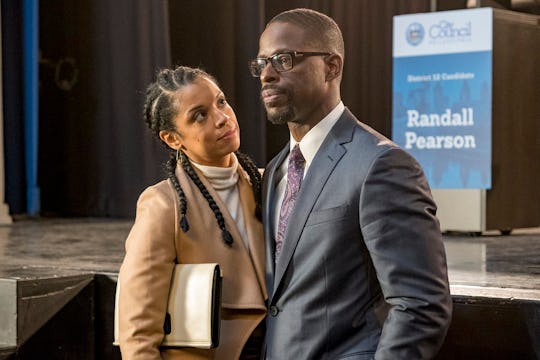 Ron Batzdorff/NBC
Twitter Users Were Shocked By The 'This Is Us' Fall Finale
Though the Season 3 fall finale of This Is Us answered a couple of questions the audience had been mulling over for months, it also supplied more than a few new ones. There are plenty of revelations for viewers to grapple with from now until the show's return on Jan. 15. And these 11 Twitter reactions to This Is Us' fall finale prove that some fans are still reeling from all they've learned.
There were big surprises across all the timelines of This Is Us in "The Beginning Is the End Is the Beginning." Some are so major that they're sure to shake up everything the Pearsons (and the fans) have known so far, like the reveal that Nicky isn't dead after all. Then there are the more slow-boiling tensions, which include worries about Randall and Beth's currently rocky relationship, as well as finding out that the mysterious "her" of the flash forward is Rebecca.
All of those plot points are going to have an effect on the series going forward, but for the moment all viewers can do is try to speculate about how it'll all work out in the long run. But before they can move onto the theories, fans have to exorcise all their shock and excitement. And what better place for that than Twitter?
There were a few conflicting opinions when it came to the show revisiting Jack's service in Vietnam over the course of several episodes, with at least one entirely devoted to the story of Jack enlisting after Nicky was drafted. One fan felt the arc wasn't very interesting, while another was enthusiastic about the performances of actors Milo Ventimiglia and Michael Angarano.
Others, however, were simply too taken aback by Nicky not being dead that they didn't even get into the story's merits and missteps. Though it had been a fan theory prior to Episode 9's confirmation, it is a slightly soapier twist than This Is Us usually goes for, even for a show that embraces melodrama as wholeheartedly as it does.
But while the Nicky reveal might be the most talked-about moment from the fall finale, it was far from the only on fans' minds. Beth and Randall's marriage has been worryingly tense since she lost her job and he decided to pursue local politics. Their decision to work together only made things worse.
The finale concluded with Beth sleeping on the couch, feeling that Randall was neglecting his familial responsibilities to chase a goal that wasn't even working. Then in the flash forward, it was unclear whether they were still together or just a very friendly divorced couple. Randall and Beth's marriage is one of the best parts of the show and the idea that it might not last is not something fans even want to consider.
A lot happened in the fall finale of This Is Us Season 3, and it's clear that fans are a little nervous about what direction the show will take going forward. But even though the series does seem to delight in toying with its viewers' hearts, it always finds a way to make it all okay in the end. Everyone will just have to wait and see how it all unfolds in the second half of the season.
This first-time mom wants to have a home birth, but is she ready? Watch how a doula supports a military mom who's determined to have a home birth in Episode One of Romper's Doula Diaries, Season Two, below. Visit Bustle Digital Group's YouTube page for the next three episodes, launching every Monday starting November 26.