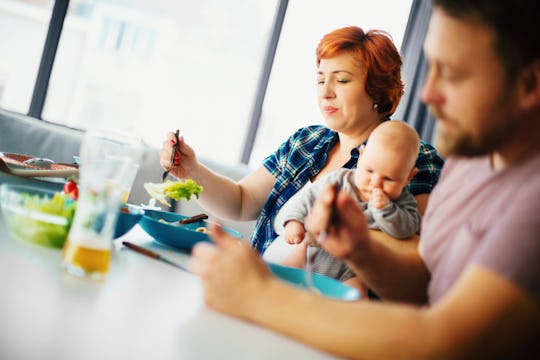 Aja Koska/E+/Getty Images
11 Vegetables To Eat When Breastfeeding
Breastfeeding moms are often concerned about which foods they should or shouldn't eat in order to keep their babies healthy. Although it's important to make healthy food choices, the great thing about breast milk is that it can still meet your baby's nutritional needs even if you have an occasional cheat day. One of the healthiest foods you should incorporate into your well-balanced breastfeeding diet is, no surprise, vegetables. Most veggies are rich in vitamins and nutrients, but there are particular vegetables to eat when breastfeeding that will keep your energy high and may even boost your milk supply.
Of course, breastfeeding is hard enough without obsessing over every little thing that goes into your body. While OB-GYN Emily Donelan M.D. of Northwestern Medicine urges moms to incorporate vegetables into their diets, she says there's no reason to worry that a skipped serving of kale will hurt your baby. "A lot of stuff you read is a bit crazy," she says. "If you have a healthy, well-balanced diet you don't need to be specifically counting your macro nutrients or vitamin intake." Dana Henry RDN, a Maternal Fetal Medicine Dietitian with the University of Virginia Health System, adds that the best way to look at it is to break down vegetables by key vitamins and minerals.
Here's what you need to know about the following veggies so you can make sure you're getting all the nutrients you need to help keep you and your breastfed baby in tip-top shape.
This article was originally published on