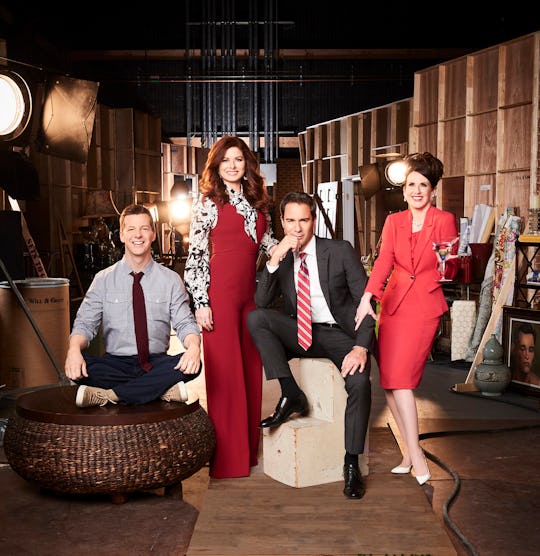 Andrew Eccles/NBC
You Need To Rewatch These Hilarious 'Will & Grace' Episodes Before The Reboot
Now that Will & Grace will be back on your television screens with brand new episodes, it may be time to revisit the best moments from the show's first run. The entire series has been made available to stream on Hulu (finally!) so it will be easy to find all the Will & Grace episodes you need to rewatch before the reboot. Luckily not many sitcoms are so tightly plotted that you need to watch every single episode, and it's even less necessary to do so with the new Will & Grace because it will be tossing out the original finale and semi-starting anew.
All you have to keep in mind are the few facts that defined the series: Will and Grace have an absurdly close friendship that borders on dysfunction (but in a fun way!), Jack is a struggling actor who will never come to terms with the limitations of his talent (and I hope he never does), and Karen is a hard-drinking potentially immortal trophy wife who will always put pills before feelings. Romantic relationships may come and go, but the friendship between these four is forever.
There are eight seasons' worth of hilarity that you can enjoy all over again before the revival premieres on Sept. 28, but in case you don't have time for all 319 episodes (which would be totally understandable), just try these 11 for an appetizer to remind you of what makes this show so great.
1. "The Truth About Will and Dogs" (Season 1, Episode 9)
Grace unexpectedly brought home a puppy and while Will was initially resistant, he ended up totally obsessed with the pooch. Basically any episode with a puppy is an episode you should watch, but this is especially adorable. This episode also acts as a precursor for the issues that would plague the titular friends throughout the series. First they struggled to raise a puppy together, but it got a lot more serious later on when they decided to have a baby.
2. "Das Boob" (Season 2, Episode 3)
Grace tried to impress old classmate Luke Danes in an episode lauded for its physical comedy, which involved water bras and much grabbing of boobs.
3. "To Serve and Disinfect" (Season 2, Episode 6)
In this episode, Will finally showed some appreciation for Jack's "career" while working with him as a cater waiter and being forced to serve some arrogant old colleagues. But the best part of "To Serve and Disinfect" was Grace discovering Karen's past in fetish pornography, which made excellent use of Karen's very distinct voice.
4. "Lows in the Mid-80s" (Season 3, Episodes 8 & 9)
This two-parter from Season 3 revisited the start of Will and Grace's relationship, when they were college sweethearts considering marriage. It's fun to see where it all began for them, especially since it began with so many amazingly bad wigs and popped collars.
5. "Bed, Bath and Beyond" (Season 4, Episode 7)
After breaking up with boyfriend Nathan (guest star Woody Harrelson), Grace took to her bed and the rest of the gang conspired to make her feel better. The mix of comedy and heart made this a can't miss episode.
6. "Moveable Feast" (Season 4, Episodes 9 & 10)
"Moveable Feast" was another two-part episode, but this one took viewers through each of the main character's families over one Thanksgiving. It included great guest stars Debbie Reynolds and Blythe Danner (as Grace and Will's mothers, respectively), plus a whole lot of laughs.
7. "A Chorus Lie" (Season 4, Episode 15)
Will & Grace excelled with guest stars, and Matt Damon's turn as a guy pretending to be gay in order to try out for the Gay Men's Chorus just to earn a trip to Europe was one of the funniest.
8. "Bacon and Eggs" (Season 5, Episode 2)
However, a close second in hilarious guest stars was Kevin Bacon showing up to play himself in "Bacon and Eggs." Jack started out as Bacon's stalker but ended up his personal assistant, with Will being forced to pretend to stalk the movie star when he needed a little ego boost. The whole thing finished with a Footloose dance break, as most things should.
9. "24" (Season 5, Episode 24)
The gang took to a yacht to scatter the ashes of Karen's husband Stan, and shenanigans naturally ensued. Grace wore giant hats and feared for the state of her marriage. Will and Jack got drunk and suspected they might have slept together. But, most delightfully, Karen and Stan's mistress Lorraine (an epic Minnie Driver) ended up in a brawl that took them overboard.
10. "Last Ex to Brooklyn" (Season 6, Episode 2)
Everything fell apart during a dinner party at Grace and Leo's place when it was revealed that Leo's glamorous ex Diane (Mira Sorvino) had a one night stand with Will in college. "Last Ex to Brooklyn" featured tiny puppies in purses, copious glasses of wine, and all the laughs that could be gleaned from dealing with everyone's messy romantic history.
11. "Queens for a Day" (Season 7, Episodes 10 & 11)
Will & Grace always had amazing holiday episodes, and "Queens for a Day" was no exception. Will spent the entire episode trying to win over Vince's mother by cooking the perfect Thanksgiving dinner while Vince dealt with nonexistent daddy issues. The highlight of the episode, however, was Jack helping Vince's sister Ro (Jamie-Lynn Sigler) stay in the closet and then come out of it mid-meal.
That's hardly every gem from Will & Grace's entire run, but these episodes are a good place to start to get you back in the mood for the revival.
Watch Romper's new video series, Romper's Doula Diaries:
Check out the entire Romper's Doula Diaries series and other videos on Facebook and the Bustle app across Apple TV, Roku, and Amazon Fire TV.