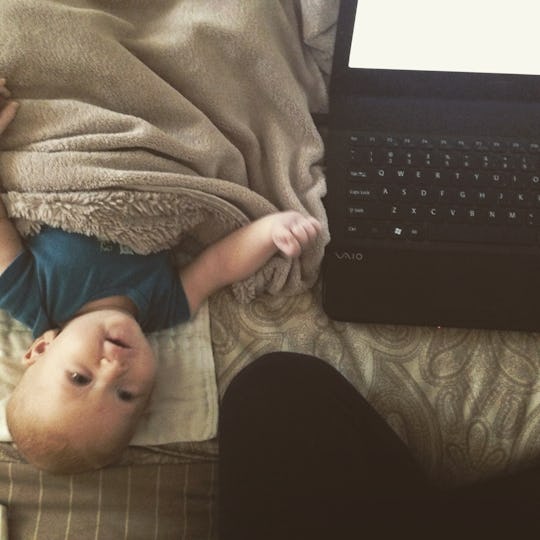 Courtesy of Gemma Hartley
11 Women Share Why Their Careers Are So Important To Their Parenting
I got pregnant in college and graduated mere days before my first son was born. I didn't have a career at that point, I had worked my way through college working retail and food-court jobs. To be honest, I wasn't exactly sure at that point what I wanted my career to look like before having kids, yet I knew that being a working mom would be important to me even after kids. Once my son was born, however, I found focus and passion and have been working toward my dream of becoming a writer ever since.
Well, almost ever since. There were times early on in my son's life where I gave up on writing and tried to throw myself wholly into motherhood. I think being a stay-at-home mother is an important job, and I have so much respect for those who put all their time and attention toward motherhood. However, when I tried to be a full-time, all-the-time, stay-at-home mom, I often found myself getting into funks, which sometimes turned into full-blown depression. As much as I hated to admit it to myself, motherhood couldn't be my all.
I needed my career in order to feel fulfilled. Pursuing my career as a writer allowed me to feel whole, not just as a mother but as an individual. As I've followed my path, I've found that my career is important not only for my personal reasons, but also for my whole family. I love being able to show my children what a passionate life looks like, and that having a family does not mean sacrificing your dreams. Having a husband who helps support me in my career shows them what an equal and supportive partnership should look like. Here are some other women on why their career is so important to them and their families as well:
Joelle R., 35
"I need it to feel fulfilled. I love my kids, but I also love myself, and I know that my career fulfills a part of me that my job as a mother never will. I tried being a stay-at-home mom and it drove me crazy. I think it's great for people who can do it and want to do it, but it just wasn't for me. I'm not ashamed of that. It makes me who I am."
Harmony C., 30
"Honestly, I enjoy being a mom more because I work. I feel like my own complete person, and even though I hate leaving every morning, it makes coming home that much better."
Dena O., 32
"Since I started my family, my career is important to me because it allows me to tap into parts of myself that motherhood does not. I still get to feel like 'me' even though much of my head space is actually about another person now. I love my work (freelance writing), and my career is actually more aligned with my dreams and goals now than it was before I had a baby."
Vanessa S., 38
"I have three careers: I do GIS for the city of Tacoma, I teach yoga, and I run a photography business. While it seems like a lot — and it is — I need each of these outlets to feel complete. The computer work push[es] my problem solving and technical brain, the photography push[es] my creative brain, and the yoga keep[s] me sane and healthy.
I did do the stay-at-home mom gig (which meant I had cut the GIS work out but not the others) for two years. I love that I have done both and know the struggles and joys that both the working mother faces and the stay-at-home mom faces."
Elizabeth B., 34
"I'm a part time freelance writer and blogger. I have an MFA in fiction and a drive to write, so I need to practice my art: it's part of my being a fulfilled person. It still leaves me time to homeschool and stay home, for which I am eternally grateful."
Chaunie B., 28
"My career is important to me because frankly, staying at home with young kids is like a form of torture for me. [I feel like it] turns my mind to mush. Without some sort of outside outlet, I tend to get depressed very, very easily."
DeAndrea S., 25
"My career is important to me because it gives me an additional sense of purpose outside of the house. I love being able to work from home and spend time with my children, but I feel even better knowing that I am working to ensure they have a brighter future by means of promoting clean and sustainable energy, as well as cost savings for vulnerable families."
Sidney N., 29
"I love my job (as a tattoo artist) because it's fulfilling a dream that I've had since I was in high school. I feel like I'm doing what I was always meant to do. I want my daughter to go after her dreams, and I think the best way to do that is to go after my own dreams."
Joni L., 27
"I sell Arbonne, which some people don't see as a 'real job,' but to me, it is. I love it, and I'm passionate about it. It feels good to be able to stay home with my kids and bring home enough to help put food on the table. Plus when my kids get older, I like that they will be able to see me work. You have to work for the sort of life you want."
Maddie K., 28
"​I'm the Founder of Fete Box — a styled party in a box company​! Fete Box is a creative outlet for me that not only provides for my family, but also allows me to give to others. I love the idea that the products I send people create memories and experiences. Working at home and staying home with my daughter is not the easiest gig in the world, but I try to remind myself that she will (likely) have a very strong work ethic as an adult and a desire to follow her passion."
Priscilla B., 31
"Well, for one, I want my son to understand and value hard work and determination. I want him to see me working, as well as spending time with him. But also, I have always wanted to be a writer and get paid for it. Focusing on my career keeps me balanced, allows me to remember who I was before kids, and to appreciate who I am after having them as well. I've always known I couldn't personally hack it as a full-time SAHM (I don't have the patience and energy required for such a demanding job, TBH), and being a WAHM allows me to feel connected to the outside world, and to feel a different form of success."