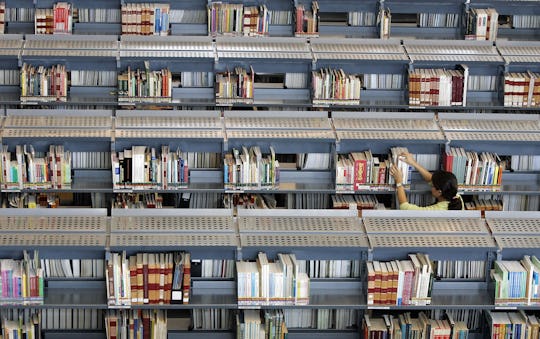 ROSLAN RAHMAN/AFP/Getty Images
11-Year-Old's #1000BlackGirlBooks Campaign Is Inspiring For So Many Reasons
There's a new shero to celebrate. Meet 11-year-old, Marley Dias founder of the #1000BlackGirlBooks campaign, an effort undertaken by the precocious middle schooler to add diversity to the types of children's books kids know about. Because here's the thing: There's no dearth of cool literature out there, but because there are so many books in the world, it's overwhelming to know which ones to read. People tend to rely on popular names like John Greene when it comes to youth or young adult lit, when really, there are tons of books that show a variety of life experiences to draw from — and that's what make's Dias' campaign so much more important.
Dias is giving girls and boys of all races a round-up of children's books that feature black female protagonists, because the 11-year-old was apparently "sick of reading about white boys and dogs." (According to the Philly Voice, Dias was referring to "Where the Red Fern Grows" and the "Shiloh" series.) The 11-year-old's mom then took her daughter to task and asked her what she was going to do about being fed up with the lack of diversity in the books circulating among her peers. In an interview with The Philly Voice, she said,
I told her I was going to start a book drive, and a specific book drive, where black girls are the main characters in the book and not background characters or minor characters.
You, go, girl! Having just wrapped the drive at Lingelbach Elementary School in Philadelphia with over 400 books collected, Dias is continuing her efforts until she hits the 1,000 mark — and it looks like with a little help from social media, Dias is going to reach her goal in no time.
Dias said she also discovered the book Roll of Thunder, Hear My Cry from her work on the project (I've read it, and it's amazing). And by the way, this isn't the magnanimous act the New Jersey tween has accomplished in the past 12 months. According to Jezebel, Dias is a former Disney Friends for Change scholarship recipient, and she's traveled to Ghana to help feed orphans. Feeling inspired yet?
In addition to all that, Dias is launching her project with an organization called GrassROOTS, and the books collected from the drive will go to the Retreat Primary and Junior School and Library in the parish of St. Mary, Jamaica, where Dias' mother and the President of GrassROOTS grew up. Dias' mother told the Philly Voice recently that it was important for little girls and boys to grow up reading about characters they can identify with in literature. "For young black girls in the United States," she said, "context is really important for them — to see themselves and have stories that reflect experiences that are closer to what they have or their friends have."
Given the public outrage over lack of diversity in Hollywood with the #OscarsSoWhite campaign (which focuses on the underrepresentation of non-whites in film, literature, and television) projects like Dias' are picking up steam. That's a great thing.
People need to understand that underrepresentation is like pretending half the world is invisible, and that's just not cool. Even an 11-year-old can see that. So, not only is this do-gooder collecting books for kids who need them, she's giving her peers a reading list that feature, well, girls like her in the lead.
As for what Dias plans for her future, she told The Philly Voice she's just getting started. "I want to be a magazine editor for my own magazine," she said. "nd I'd also like to continue social action. For the rest of my life."
Those are definitely some powerful goals to get behind, and I have a feeling this young lady is gonna meet them. I'm rooting for her!
Images: ROSLAN RAHMAN/AFP/Getty Images