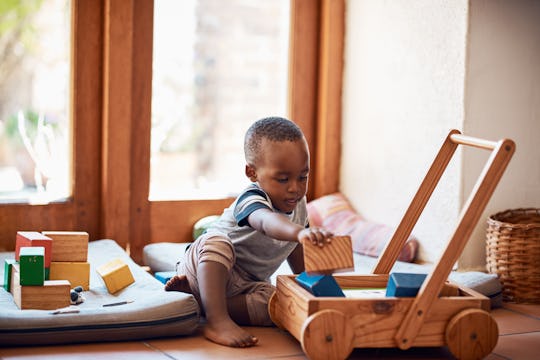 Hiraman/E+/Getty Images
12 Best Educational Games That Kids Under 5 Will Actually Love
Entertaining a preschooler is no easy task since they seem to have a seven-second attention span. Knowing this, some of the best educational games for kids under 5 are quick, engaging, and actually fun to play. Some of them are even designed for solo-play, so you might actually get a chance to relax while they play (no promises, though).
When it comes to educating a preschooler, it's important to stick to basics and fundamentals. Teacher (and preschool mom) Joanna Heglar tells Romper that when picking out a game for your kid, "the most important thing to consider is: Is this game developmentally appropriate?"
"Simply think about if the game is going to frustrate your child or be way too easy for your child," she continues. "Make up a game that encourages them to build on [their] skills, but is not so challenging that your child will not succeed."
"When choosing a game for your child, try to focus on their interests," Early Childhood and Montessori Teacher (and toddler mom) Meagan Messuri says. "Children learn when they are having fun and they most likely will be having fun with something they're interested in." Messuri suggests games with colors, numbers, strategy, or counting.
There are a lot of ways you can educate your child through play, whether it's a board game, an online tool, or using things you already have at home. Just remember to focus on realistic educational goals for your child (most 3-year-olds don't understand multiplication quite yet) and let them enjoy the game for what it is... a fun game!
We only include products that have been independently selected by Romper's editorial team. However, we may receive a portion of sales if you purchase a product through a link in this article.