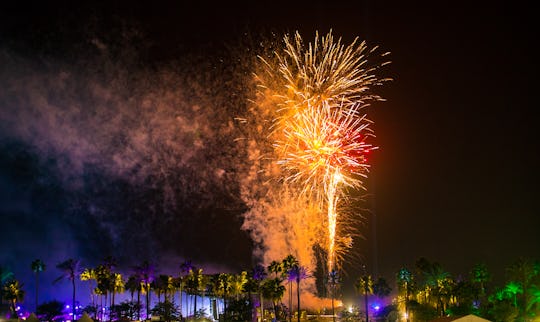 Christopher Polk/Getty Images Entertainment/Getty Images
12 Best Firework Displays In The Country To Celebrate With A Bang This Fourth Of July
There's just something a little bit magical about the Fourth of July no matter where you find yourself in the country. Maybe it's all the blueberries and watermelon. Maybe it's the smell of sunblock or the way your hair feels as it dries in the air after a dip, but settling in around sunset to watch a good old fashioned patriotic pyrotechnic display just feels so good. Here's a list of the 12 best fireworks displays across the country to help you celebrate Independence Day with a bang this year.
When it comes to Fourth of July fireworks, like most things American, bigger is better. Bigger booms, bigger crowds, more is more. And no matter who you are, or where you live, the Fourth of July offers a perfect opportunity to (sensitively) embrace our American-ness with gusto. This year, July 4 falls on a Monday, a perfect opportunity to plan a long weekend and head out to one of these iconic American fireworks displays or check out one in your own hometown. Here are some of the best and biggest fireworks displays across the country.
1. New York City
This year marks the 40th anniversary of the Macy's 4th of July Fireworks, according to the site for the annual show, which this year will be a two-hour nationally televised, star-stuffed extravaganza. If you aren't into crowds, stay at home in the air conditioning and watch it live starting at 8 p.m. Eastern Time on NBC. Get this: This year's fireworks display, according Macy's, will float five barges up the East River loaded with pyro effects that will be fired for 25 continuous minutes set to the sounds of the Air Force Band.
2. Atlanta
Montell Jordan is headlining this year's Centennial Olympic Park's 4th of July Celebration. Am I the only one who's really excited about that? This is how we do it, people. Gates open at 6:00 p.m., and the fireworks are billed by Centennial Park as the "Southeast's largest fireworks display."
3. Washington, D.C.
The National Mall Fourth of July Celebration is put on by the National Parks Service and it's the place to go for some hardcore, moving, deep-level kind of patriotism. Watching fireworks explode over America's most sacred memorials and national monuments is quite a sight to behold and something everyone should do at least once. This year's fireworks start at 9:09 p.m. and will go for 17-and-a-half minutes, which is oddly specific, but helpful for planning.
4. Laughlin, Nevada
With desert sky above and the Colorado River beneath, Laughlin's Rockets Over The River is one of the most striking places to celebrate Independence Day. Laughlin's casinos all blare the soundtrack to the fireworks, and radio stations have a simulcast so no matter where you are you can enjoy the show. And when it's over, you can pick up that game of poker.
5. Boston, Massachusetts
The Boston Pops Fireworks Spectacular began in 1929, and was the first free outdoor symphony concert in the world. In 1972, the Pops began adding in the real live howitzer cannons to its "1812 Overture," which plays along with the fireworks display. The show has grown from there, so much that, in 2009, Neil Diamond belted out the best "Sweet Caroline" rendition ever heard for more than 500,000 people on the banks of Boston's Charles River. You can watch this year's display on TV starting at 7:00 p.m. Eastern Time, or have the thrill of being there yourself to experience the 4th of July in one of the most American ways imaginable. Also: there's seafood.
6. Key Biscane, Florida
If you find yourself in the Miami area, check out the Key Biscane Fourth of July Celebration complete with an afternoon parade, huge picnic, and sunset fireworks. Or just lay on the beach and tune your radio to 88.9 FM WDNA and listen to the broadcast and enjoy the view from wherever you are in the area.
7. Minneapolis, Minnesota
Once the snow melts, Minnesotans really know how to enjoy those summer months. On the Fourth of July, they head downtown to the Minneapolis Riverfront for Red, White, and Boom fireworks. It's a daylong celebration for families and includes a half marathon, music, food and, of course, a huge fireworks display over the river.
8. Addison, Texas
The Kaboom Town fireworks show, along with it's corresponding air show, draws crowds from across the country to Addison, Texas, outside of the Dallas-Fort Worth area. The show has been going for 30 years, and, according to the event's organizers, was ranked one of the best fireworks displays by the American Pyrotechnics Association, an organization that should be in a position to know about these things. The event organizers even offer a full glossary of fireworks types from Brocade to Waterfall that's a must read for all firework aficionados.
9. Philadelphia, Pennsylvania
Philadelphia goes all-in on the fireworks for several days leading up to the Fourth of July with Wawa Welcome America. There's a fireworks show at Penn's Landing, on July 1 and 2 at 9:30 p.m., with the big Fourth of July show starting at 10:00 p.m. The Wawa Welcome America is a whole food and music festival too, so prepare to spend some time exploring.
10. Lake Tahoe
Beat the heat and escape to Lake Tahoe, California, or Nevada for a little mountain air and one of the best fireworks displays in the country, Lights on the Lake. Watch from the beach, on a boat, or even buy a trip on the M.S. Dixie II paddle boat. There's family fun and entertainment galore. Fireworks, which are best viewed from the South Shore of the lake, start at 9:45 p.m. local time.
11. San Francisco, California
Pier 39 on the San Francisco Bay, with it's 180-degree views of the water, is an incredible spot to be to watch fireworks on the Fourth of July. The fireworks start at 9:30 p.m., but there are plenty of other events leading up to the big show, including an '80s cover band called Tainted Love that sounds pretty rad.
12. Chicago, Illinois
Chicago's Navy Pier is a perfect spot to eat, drink, and watch some serious fireworks on the Fourth of July. There's a rooftop terrace hosting the second annual Freedom Fest that includes music, food, and a full bar, and all ages are welcome. There are also a ton of cruises on the lake for an even better view of the pyro effects floating in the middle of Lake Michigan.
Any of these shows would make amazing memories for families, but even just staying in your hometown and attending its local show can be a perfect way to celebrate the holiday.