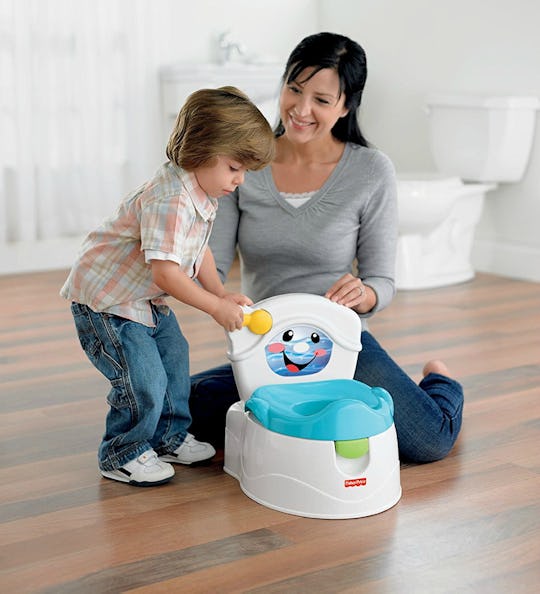 Amazon
12 Brilliant Potty Training Tools & Toilets That…
Kids seem to learn something new every day. But out of all the developmental milestones to achieve, there's only one that equally instills fear and pride in the hearts of mothers everywhere: teaching your infant to use the bathroom. Fortunately, there are so many potty training products that make learning so more simpler.
Unlike other landmarks, potty training challenges can sometimes impede progress, in a way. Think about it. They've spent their whole lives peeing and pooping comfortably in their pants, and all of a sudden their parents want them to drop everything (including their pants) and go do their business while sitting on a cold, hard piece of porcelain multiple times per day.
Experts have all sorts of theories and make all sorts of promises about how to potty train as fast as possible. Ultimately, however, your child will go at their own pace and all you can do is help the learning process go more smoothly. Once they're ready, products to make potty training easier can make a big difference as you work toward a diaper-free future. Items like kid-size potties, a watch to remind them when it's time to "go," and disposable seat liners for public toilets could be the answers to your potty training prayers.
Unfortunately, no one has invented a product to help kids learn to wipe themselves (I suggest baby wipes, downward dog, and the bravest face you can muster), but at least the following potty training tools can help make getting your little one into big-kid underpants simpler.