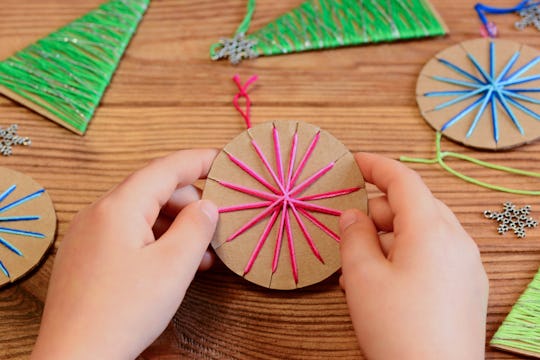 OnlyZoia/Shutterstock
12 Easy Christmas Ornaments Kids Can Make Without Destroying Your House
It's the most wonderful time of the year — Christmas crafting time. Even though I've got just as many Pinterest fails as successes under my belt, I'm still always willing to take a crack at a cute D.I.Y. project. That goes double now that I've got kids to celebrate the season with. My almost 3-year-old is just now starting to be able to follow directions, and loves to do activities together. That's why I'm super pumped about all the easy Christmas ornaments that kids can make (with just a little help from an adult) to be found on Pinterest.
For the last few years my family has done a homemade ornament swap, so I've spent every December cutting, crocheting, hot gluing, and painting ornaments. This year, it will be fun to take a break from complicated creations and focus on decorations that little hands can make. My mom still has the many of the ornaments my siblings and I made growing up, and though they're a little worse for the wear, it's so sweet to see them all these years later. As fun as the ornaments on this list will be to make now, imagine how much you'll cherish them when your kids are grown up.
Here are 12 super cute ornaments to hang on your tree this year — and treasure for years to come.