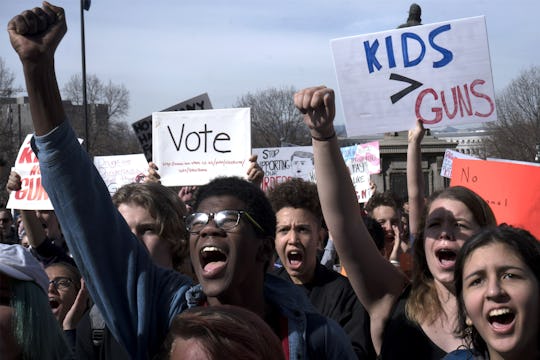 Ross Taylor/Getty Images News/Getty Images
No Time To Knit Before March For Our Lives? Here Are 12 Evil Eye Products You Can Order
Just as the symbol for the Women's March was the pink pussy hat, the emblem for this Saturday's March For Our Lives (MFOL) has become the evil eye glove. Knitting patterns and how-to videos are available for free online, but if you aren't the crafty type, or don't have the time to make yourself a pair of hand warmers by Saturday, there are still plenty of evil eye products you can buy last-minute to show your solidarity with the MFOL.
But before you start shelling out, you may be wondering what this symbol is all about. Why would anyone want to wear an evil eye?
The answer is, you wouldn't. The evil eye symbol is not actually an evil eye. Instead, it's an amulet designed to ward off the evil eye, which is an ancient "curse transmitted through a malicious glare, usually one inspired by envy," according to the BBC. Both the curse and the talisman, also called a nazar, have existed in many different cultures for thousands of years. More recently, the symbol has become a fashion accessory for the likes of Kim Kardashian — who's worn it in bracelets and headgear — and Gigi Hadid, who brought out her EyeLove shoe line last November.
That said, the inspiration for bringing the evil eye symbolism to the MFOL isn't haute couture; it's to create a "sea of eyes" to show Congress that people are watching, according to Lifehacker. So if you want to show your support for the movement, there's plenty of swag available on short notice, with options to suit anyone's personal sense of style.