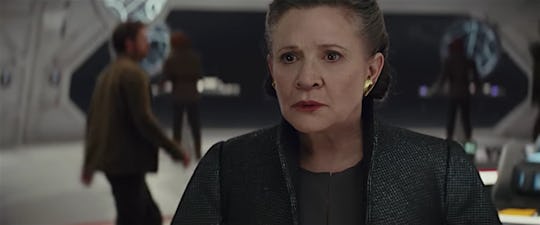 Screenshot/YouTube
12 Feminist 'Star Wars' Quotes That Prove Girl Power Exists In A Galaxy Far, Far Away
There is something so viscerally powerful about the image of a strong woman commanding troops into battle, armed with none of the extra-sensory powers her brother possesses, but doing just a good of a job as he could. Better, even. The acutely feminist aspect of the Star Wars franchise is in the everyday nature of powerful women. Yes, the earlier movies were dominated by men, and the strong women weren't as numerous as they are currently. But now, women in power are the norm in the series. To prove it, here's a list of 12 feminist quotes from Star Wars that will blow your mind.
The thing about Star Wars is that for so long is was assumed to be only a boys' club. It was this thing they all watched when they got together. I mean, Leia in a gold bikini, amirite? It was cops and robbers on a large scale — a party of testosterone and magic. The didn't care that it was Leia's intelligence that won them the rebellion. They didn't notice that had it not been for Padme's bravery as leader, the whole senate would've collapsed, leading Palpatine to take over before motions could be put in place to stop him.
That's why when The Force Awakens came out, and it was being led by a woman, basement-dwelling boys everywhere lost their collective minds. But it was there all along, it was just amplified by Rey and by Jyn Erso, and cemented by General Leia, Rose Tico, Vice Admiral Holdo, Maz Renata, and even Captain Phasma. It's fully feminist, but the quotes are rarely about "she can't do it, she's a girl." They're more, "let's get this done."