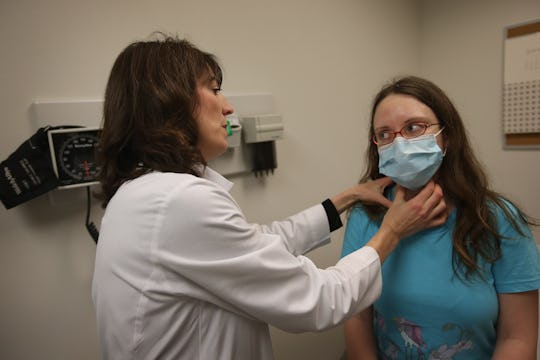 Scott Olson/Getty Images News/Getty Images
12 Flu Symptoms That Are Red Flags You Can't Ignore
The 2017-2018 flu season has proven alarming, with a particularly virulent strain, H3N2, making its way through communities across the country. Parents of young children in particular are on high alert for the flu symptoms that are red flags you can't ignore. But are they right to panic? The CDC's latest weekly report logged at least 30 pediatric deaths to date, along with the deaths of many seemingly healthy adults, and it certainly feels like an appropriate time to crack out the face masks. However, the numbers being reported aren't out of line with a "typical" season, according to the CDC, and experts recommend staying calm and being proactive about protecting yourself and your family from the flu, as well as being aware of the the flu symptoms that present red flags.
For all the hype about this flu season, the CDC's latest report, ending the week of Jan. 13, suggests that while the statistics reported so far are troubling, we've not reached "historic" or rare numbers. The CDC says the U.S. sees an average of 9 million to 35 million illnesses, 140,000 to 710,000 hospitalizations, and 12,000 to 56,000 deaths per year stemming from influenza. The flu is a highly contagious virus capable of killing people, which is why public health officials always recommend widespread vaccination, which creates herd immunity to support those who aren't immunized (such as infants) and those who are immunocompromised. That said, Marcus Plescia, chief medical officer of the Association of State and Territorial Health Officials admitted to USA Today that it's a "robust flu season."
The current strain going around — H3N2 — isn't new, but when it comes back around, it dominates all other viruses. The flu vaccine is not 100 percent effective but experts note that it can reduce the severity of symptoms and lower hospitalization rates if you do still catch the flu, and obviously that the more people who are vaccinated, the lower the rate of contagion. Those typically at risk are older adults and young children, as well as those with underlying medical conditions (especially those with respiratory issues).
Assuming you follow the standard guidelines for protecting yourself against the flu (getting the vaccine, covering your mouth when coughing, and washing hands frequently) and keep notice for any of the below red flags, you can consider yourself well prepared.