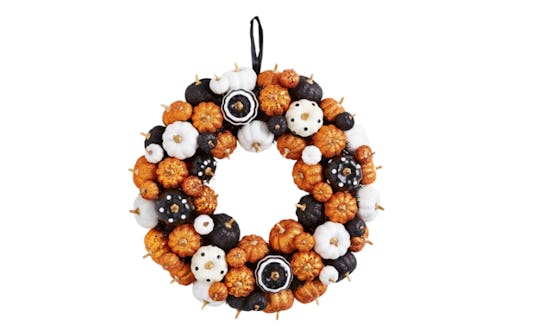 Pier 1
12 Festive, Spooky, & Silly Halloween Wreaths That Will Upstage Your Neighbors' Decor
Autumnal wreaths are nothing new, but this latest batch of door decor has a super creepy spin. The Halloween wreaths for sale now are dark, spooky, and sometimes hilarious. Finding a wreath that matches your Halloween vibe will be pretty easy this season, because there's a decoration made to fit every taste.
Whether you decorate the front door for every holiday, or you simply want to add a spooky touch to the decor this fall, Halloween wreaths are a fantastic option. Some are elaborate, dark arrangements of gorgeous faux flowers and skulls. Really, some of these wreaths would look right at home on the front door of the Addams family home. Others are more traditional wreaths with plenty of ribbons, gold leaves, and tons of pumpkins. Then there's the Halloween wreaths that are just plain weird, yet totally appropriate, featuring monster mouths, glittery little skulls, and eyeballs in all the wrong places.
Even your own home gets the chance to dress up this dress up this Halloween, so have fun with these holiday decorating options. So whether you want to spook-ify your front door for trick-or-treaters, or simply add a dark, whimsical centerpiece to your mantle, there's a spooky Halloween wreath available to fit every style and budget.