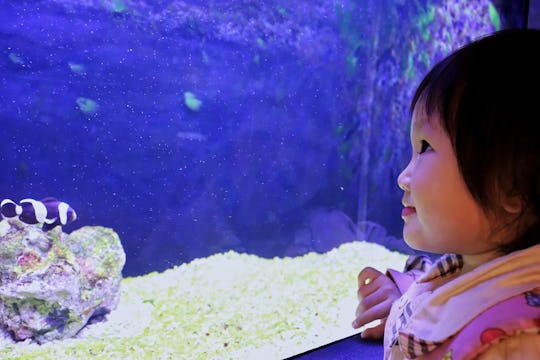 Shutterstock
If Your Kid Wants A Fish, These 12 Hard-To-Kill Types Are Your Best Bet
Aquarium setups are so visually striking and peaceful, but the idea of keeping a bunch of fish alive can be daunting. But by learning more about the resilient, hard-to-kill fish that are great for beginners, you can become a confident aquarium owner in no time. So how do you make sure they stay happy and healthy, without a premature trip to the great fish tank in the sky?
Before diving in, it's best to remember that maintaining an aquarium does require a bit of time and care. "We want to be sure that fish keeping is a responsibility and that fish are not regarded or treated as disposable pets," Eric Radi, Aquatics Content Producer and aquarium expert at LiveAquaria, tells Romper via email. "Research your fish before purchasing to ensure compatibility with other fish, potential size, diet, and nutrition." With a little prep work, you can learn how to create a great home for your new fish.
With that in mind, there are a few species of fish that are probably best left to more veteran fishkeepers. "Cardinal Tetras, Rummynose Tetras, Pencilfish, [and] Celestial Danios" aren't necessarily the best fish for beginners, as Radi explains. Their needs can be a little more demanding. But to learn more about the best fish for newbies, just keep reading.