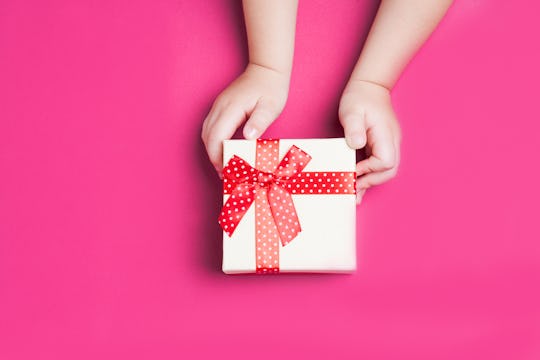 Nadin Panina/Shutterstock
Your Kid Probably Doesn't Want Roses, So Here Are 12 Valentine's Day Gifts On Amazon
This morning, a package arrived from Amazon. I couldn't remember what I had ordered, but that's nothing new — I mean, it's Amazon. Alexa is my personal shopper. When I opened the box, there was a unicorn hoodie and a pair of sweatpants for my kids, as well as a card from my mom. It was only at that moment that I realized that my parents had sent my kids Valentine's gifts, and I, busy mom that I am, have forgotten my own children. So I went and found the best last minute Valentine's Day gifts for kids on Amazon because I know I'm not the only one.
I know that there was a time before Amazon Prime's two-day shipping existed, but I don't like to think of it. It was a dark time, with no smiling boxes and entirely too much time spent at stores, interacting with humans. Now, not only is there the magic that is Amazon Prime, but there's also a ton of stuff with free one-day shipping, same day shipping, and even Prime Now, which gets to you in a matter of moments. They also have a ton of stuff for kids, and most of the in demand toys and games are available really quickly, so you don't have to worry about being left in a lurch.
So if you need to do some last minute Valentine's Day shopping for your kids, here you are. All of these gifts are available with free one-day or same-day shipping for qualified orders over $35, so you know it will be there on time.