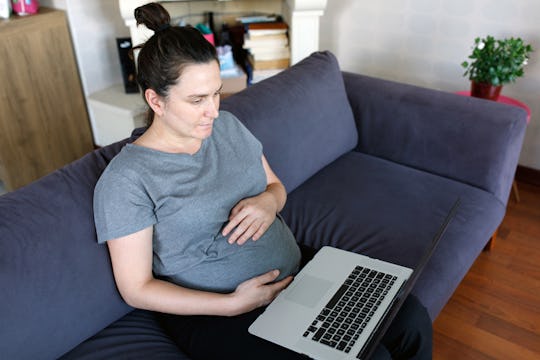 Burak Karademir/Moment/Getty Images
Prepare For Childbirth — Even In A Quarantine — With These 12 Online Classes
I don't know about you, but I do a lot online. I get cabs, order groceries, watch workout videos, pay rent, track my cycle, find recipes, and order clothing online. I mean, I even met my husband online. And now you can take online childbirth classes from the comfort of your home and on your own personal schedule. If that sounds like a pregnant lady's dream, it's because it is.
Of course, there are pros and cons to taking online childbirth classes. You'll miss out on some of the hands-on activities you might get during in-person classes, like massage techniques for labor pain, and even diaper changing and swaddling.
However, you will get to do the course on your time, which is super convenient for busy parents or those who lack access to transportation. It's even more convenient if there are no childbirth classes in the vicinity of your home. Last but not least, online childbirth classes are invaluable opportunities for mamas who have been put on bedrest or wouldn't be able to make it to an in-person class before they go into labor and delivery. Just like in-person classes, you have options when it comes to selecting an online course.
This article was originally published on