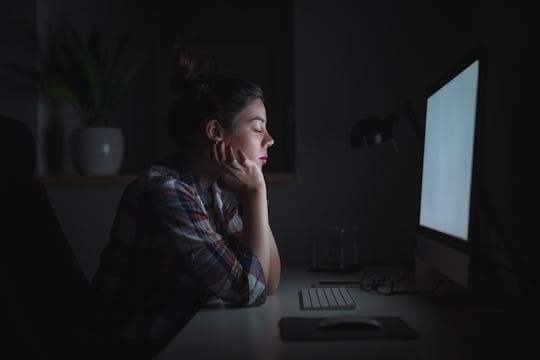 Fotolia
12 Serious Illnesses The Internet Told Me I Had When I Googled The Symptoms Of Sleep Deprivation
I've been sleep-deprived for as long as I can remember. In fact, I'm pretty sure I came out of the womb asking for a nap. Then, because I apparently didn't know what tired really was, I had kids. Parenting is a whole other level of sleep deprivation, and while I've learned shortcuts to survive, when I'm this tired I start to wonder if something deeper is going on. Like, I must be dying, right? So it wasn't too difficult for the internet to convince me I had a slew of problems but, really, I was just sleep deprived.
I mean, have you ever Googled the basic symptoms associated with sleep deprivation? I wouldn't recommend it. The internet is a strange and glorious place, but not if you're prone to believing every result that pops up (I'll give you two guesses as to what I'm "prone" to do, but you're only going to need one). A few years back, for example, I struggled with a pretty severe bout of depression and anxiety. One of the symptoms was insomnia. Not only did I worry and cry my days away, I didn't sleep on top of it.
I've searched and searched for answers, hoping to come to some sort of solid conclusion, but honestly, all I'm ever left with is paranoia. I knew I was in need of actual sleep and, yet, I let the damn interwebs tell me I had all sorts of other things wrong. Here's some of those (that weren't correct, BTW). I now know I was just sleep-deprived. Like, really, really sleep-deprived.