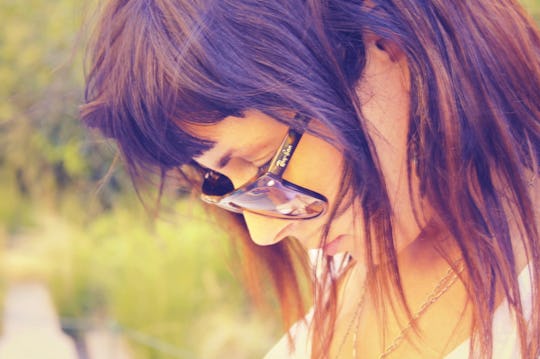 Courtesy Of Jill Di Donato
12 Things No One Tells You About Being A Functional Alcoholic, But I Will
No one aspires to being a raging drunk. Drunks are sloppy; drunks are unreliable parents and friends; drunks can be lousy at climbing the corporate ladder; drunks are usually rambling annoyances you have to look after. What about the other types of alcoholics, though? After all, there's no one way to be dependent on alcohol. Some types of drunks, like the "hot mess," or parent who loves her "mommy juice" just a little too much, are seen in a more forgiving light. This makes their suffering all the more painful, as it tends to be done silently and secretly. There are things no one tells you about being a functional alcoholic but I will, because I used to be one, and there's no guarantee I won't become one again.
Before I go on, please bear in mind that I'm not an addiction specialist. I'm certainly not a clinician, and I've never written about my fraught relationship with alcohol before, so some people who know me might be surprised. I'm so many things aside from being a functional alcoholic, and I was very clever about constructing a facade that insisted everything was fine and I was in control of my life. Then again, I'm willing to wager that other people who know me will recognize the woman whose story I'm telling here.
When I relied on drinking to "fix" me, control eluded me completely and nothing was fine. These are reflections on my experiences with alcohol, and the therapy, meetings, and self-inventory I embarked upon to get to a place where I can confidently publish such a personal story on the internet. Because, as aforementioned, the most important thing to a functional alcoholic is secrecy. It's also the thing that's tearing them apart. Trust me; it almost killed my spirit.
From hair salons, to first dates, to poetry readings, and funerals, alcohol is everywhere. You'd think it was a requirement to socializing as an adult. Let's face it, booze can make you feel like a rockstar or look glamorous on a rooftop bar sipping a $25 beverage. I mean, don't I look like I'm having fun? And I was. The afternoon the above photograph was taken was a complete blast, and that $25 cocktail was decadently delicious. However, I have no recollection of how I got home and the two days that followed were hell on earth. After that night, I was filled with shame, because that night was the first time I had "one of those nights," since I'd stopped drinking. I'd drink and then quit, drink and then quit, until I understood that I can be one of those unsavory drunks. I'm OK after one or two glasses of wine, maybe even an entire bottle, but there comes a point in my drinking where a switch flips, and it's like I stepped into the other side of the looking glass.
Also, I get blackout drunk. According to the National Institute on Alcohol Abuse and Alcoholism (NIAAA), blackouts are not the same thing as passing out cold from having one too many. Blackouts occur when alcohol affects the chemistry of your brain in a way that causes you to engage in functional behaviors that do not form memories. Too much alcohol (it can be any type) consumed too quickly shuts down the "circuits that involve the hippocampus, a brain area which plays a central role in consolidating memories for what happens in our day-to-day lives," noted the NIAAA. In other words, if you blackout, you will never remember the events that transpired during your blackout. There's literally no record of them in your brain. Writer Sarah Hepola penned an amazing autobiography about this phenomenon, and one she lived with for 25 years. You should read Hepola's book, Blackout, as she details the emotional plight of living with huge gaps not only in memory, but in your sense of identity.
As the NIAAA reported, not everyone who blacks out is an alcoholic. However, if blackouts occur frequently in your life, then that might be a sign you're a binge drinker. Which is what I was, am, and will always be, even if I never imbibe again. And guess what? Binge drinking is a form of alcoholism for some people. According to the Centers For Disease Control and Prevention, binge drinking isn't interchangeable with being alcohol dependent, in most cases. But, for some people, like me, binge drinking made me a functional alcoholic. My binge drinking disrupted my life, ruined relationships, and made me miss opportunities, which according to Medical News Daily, are signs of addiction.
Things about being a functional alcoholic need to be made transparent so people, and women in particular, (according to CNN, blackouts are more prevalent in women) can recognize a problem before it damages their lives. Things no one will tell you about being a functional alcoholic might be symbolic of something greater in our culture; like this somewhat obsessive need to curate our lives to look like one big party with a flattering filter. Things no one will tell you about being a functional alcoholic are nothing to be ashamed of. So, here it goes.