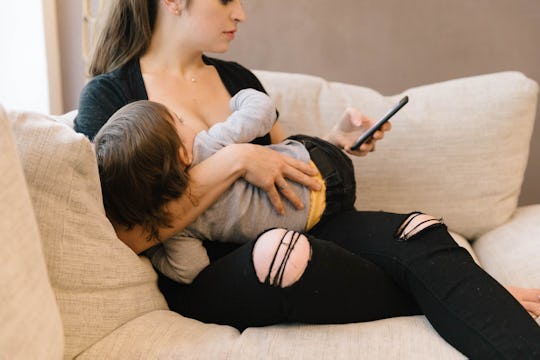 Ashley Batz/Romper
12 Things Work-At-Home Moms Should Never, Ever Feel Guilty About
As a writer who covers millennial parenting and entrepreneurship, I've had the opportunity to talk to a lot of mom entrepreneurs. Just like myself, so many of them work out of their homes, and as similar as that supposedly makes us, I'm often still surprised at how diverse each of our experiences are. However, there is one emotion that nearly every mom I've spoken to has experienced, and that's the dreaded mommy guilt.
Guilt can be strangely pervasive — especially when it comes to parenting — and while there are lots of things work-at-home moms should never feel guilty for, the feeling can be hard to avoid. Especially for moms who work at home, guilt can be magnified from opposite sides: people who think moms at home shouldn't work, and people who think working moms shouldn't be at home. With push and pull from everywhere, it can be hard to find a balance that works for you.
I worked from home for a year before I had my son, so I've had to let go of a lot of things that make me feel guilty. That's not to say I've conquered it — I often have days where I struggle. But I do firmly believe that there are some things that are absolutely not worth a working mom feeling guilty about, like...