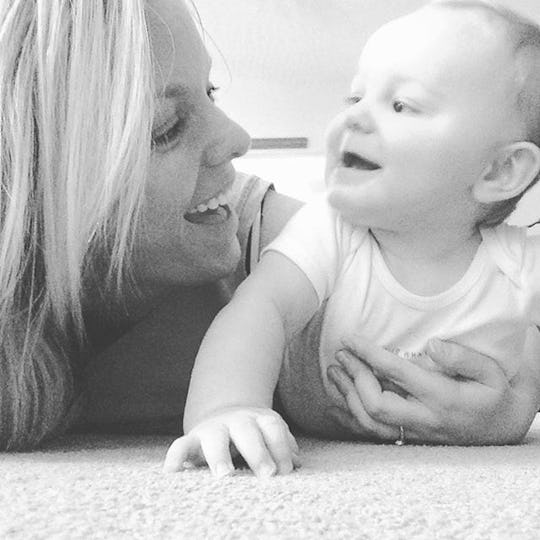 Courtesy of Hannah Westmoreland Murphy
12 Thoughts Every New Mom Has When Her Kid Crawls For The First Time
Witnessing your baby growing up and hitting milestones can be bittersweet, for any parent. On one hand, you're happy to see them thrive, but on the other, you're sad to see them growing up so damn fast. Crawling is definitely ones of those big, bittersweet milestones. It marks the beginning of your baby's ability to be more independent, while also making it painfully obvious that a baby on the move means a mom who is on the move, too. The thoughts every new mom has when her kids crawls for the first time range from exciting to terrifying, and usually cover everything in between. I've experienced it twice and, honestly, it never gets any easier.
When my first son started crawling, I was elated, but was quickly reminded that his newfound mobility was also going to peak a remarkable sense of curiosity. I mean, I was in trouble, you guys. It didn't take long to realize that living with an infant is way easier than living with a mobile infant/soon-to-be toddler. Babies on the move get into everything, and my boys seemed to be especially exploratory.
Realizing that your baby isn't a baby anymore is a hard pill to swallow. No matter how excited I was to see my sons reach their milestones, that excitement was countered by a knot in my throat that wouldn't allow me to even speak the words out loud: my babies were growing up. Fast. A lot of thoughts raced through my mind during my sons' first uncoordinated crawling sprees, and as the following will reveal, I had some conflicting feelings.