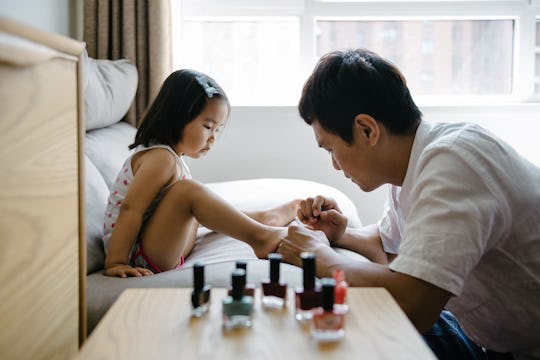 MaaHoo Studio/Stocksy
12 Toddlers Share The Adorable Things They Love To Do With Their Dads
Father's Day is fast approaching once again. And as we take time to thank the special dads, grandpas, and father-figures in our lives, it's important to focus on what makes each one of them special. Of course, there's no better way to do that than to hear it from the mouths of their babes directly. So I set out to hear what toddlers love doing with their dads, and I can promise you this: Their answers will make you laugh, smile, and may even bring a tear to your eye.
Anyone who's been around a toddler can attest to the fact that you never know what's going to come out of their mouths next. (Or what's going to go in their mouths next, for that matter.) From repeating — at high volume — the curse word they overheard you saying in the middle of Target (just me?) to making up their own language you're expected to understand and speak as well; toddlers will definitely keep you on your toes.
Thankfully, the answers we heard from the 12 toddlers below were nothing but adorable, and it's clear their papas deserve all the love this Sunday and beyond. Though they be small, these toddlers' love is definitely mighty.