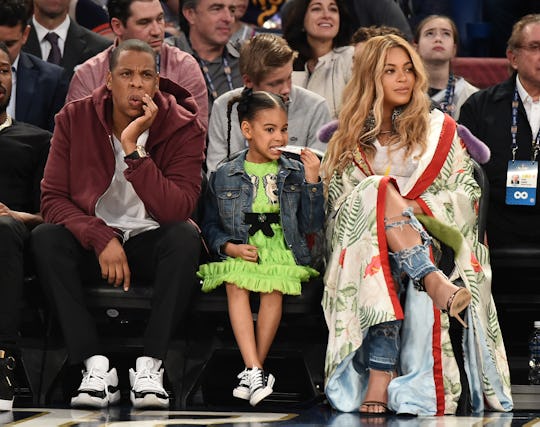 Theo Wargo/Getty Images Entertainment/Getty Images
What's One Of The Most Popular Baby Name Trends Of 2017? Colors
There's no doubt that celebrities have the power to change our perception of what baby names are. Almost every day, a celebrity baby manages to turn a seemingly random object or word into a baby name. Gwyneth Paltrow turned Apple into a household baby girl name, Jamie Oliver and his wife opted for River Rockett for their son, and Beyoncé and Jay-Z have managed to pave the way in one of the top trends in baby-naming. According to Baby Center, one of the biggest baby name trends of 2017 is colors.
Each year, Baby Center takes a close look at the most popular baby names from the previous year to see what top trends are taking shape. Blue Ivy, the music stars' little girl born in 2012, jump started the colors-as-baby-names trend, which Baby Center reports has evolved into one of the top baby naming trends of 2017. Blue certainly wasn't the only hot hue experiencing a surge in popularity over the course of 2017; names like Red, Hazel and Ivory aren't far behind their celebrity kiddo in the color guard.
Whether you're an artist or simply inspired by colors, naming your kid after your favorite hue (or the one that sounds best with your last name) is a trend that's here to stay, thanks to some very famous trailblazers. The next question is whether Beyonce and Jay-Z's latest name choices for their twins, Sir and Rumi, will see the same result — only time will tell.
If you're feeling artsy, here are the colorful names that are becoming increasingly popular, and a few more color-inspired names you might enjoy.