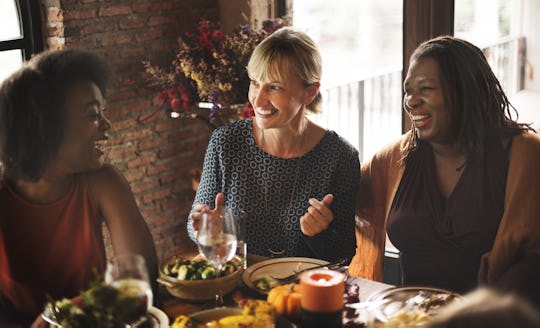 Rawpixel/Shutterstock
12 Vegan Thanksgiving Recipes Even Meat Lovers Can Get Behind
If you're hosting Thanksgiving dinner and have a vegan or two on the guest list, finding recipes can be a bit stressful especially if you're looking for dishes that will please all your guests. You might even think it's impossible, but it's actually not. There are many amazing vegan Thanksgiving recipes to choose from that putting together a delicious plant-based, dairy-free menu is probably easier than you think.
I've been with my vegan husband for almost a decade now, so I've learned a thing or two about vegan dining (despite my own personal preference for all things cheesy). Perhaps the biggest takeaway from my experience is that many non-vegans seem to get pretty nervous about trying things they're told are meat and dairy-free. Our solution, when cooking for guests, has been to just keep that little detail to ourselves until they've given the dish a try. My husband and I then love to reveal our secret after they've raved about the dish. The other thing I've learned is that you don't need to shop in speciality stores or spend a whole lot of money to cook a substantial, satisfying meal. Pretty much everything you need to whip up a delicious vegan Thanksgiving is probably available at the grocery store you're already shopping at.
Here are 11 recipes that will make going vegan a little easier this Thanksgiving.