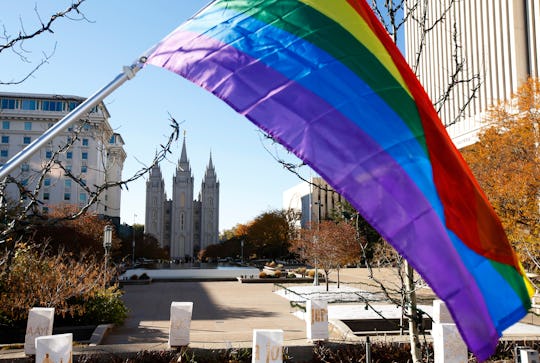 George Frey/Getty Images News/Getty Images
12-Year-Old Girl Comes Out As Gay In Front Of Congregation
It's not easy for young teens to come out as gay to their families and communities in most circumstances. It is especially hard for children growing up in conservative religious communities like the Church of Jesus Christ of Latter Day Saints (known more commonly as the LDS Church or the Mormon Church). Regardless, one brave 12-year-old came out in front of her Mormon congregation recently, and although her speech was cut short, she's an inspiring example to other LGBTQ teens and allies.
Savannah, whose last name has been kept private in media reports, told her parents last year that she was gay. Her mother and father, Heather and Jack, fully supported her choice. Official Mormon policy accepts LGBTQ members of the congregation, though, according to policy documents from 2015, the Church teaches that gay members of the congregation must remain celibate and cannot marry members of the same sex within the Church.
Because of this, Savannah's mother, Heather, no longer identifies as Mormon, though her father, Josh, does. In any case, they wanted to support Savannah in any way they could, so when she said that she wanted to come out during a "testimony meeting" — a once a month occasion held on the first Sunday or "Fast Sunday" (when members forgo meals and donate tithing money they'd spend on those meals instead), in which congregants speak about what they believe, in front of other members — they didn't hold her back.
"We came to the conclusion it wasn't our place; we couldn't silence her," her mother said.
According to CNN, there are different stories about what happened when Savannah went to speak, but the general gist of the moment went a bit like this: Dressed in a white shirt and tie, the 12-year-old bravely made her way to microphone. She then began to deliver her testimony, which she had reportedly worked on for weeks. "God loves me just this way, because he loves all his creations," she said. "I do believe he made me this way on purpose."
She continued:
I hope to find a partner and have a great job. I hope to get married and have a family. I know these dreams and wishes are good and right. I know I can have all of these things as a lesbian and be happy.
Unfortunately, the rest of Savannah's speech didn't go as planned. At that moment, her mic was cut off. In video footage posted online later, one of the Church leaders present could then be seen allegedly telling her to sit back down. Romper reached out to church spokespersons for comment on the incident, but did not immediately receive a response.
In a statement to CNN, Judd Law, the local bishop, did not explain why the mic stopped working. Law alleged that video of the testimony, which was being filmed by friends and family much like ballet recital would be, was being "exploited" for political purposes.
Heather said that Savannah was tearful as she took her seat. Savannah said that was confused about what was going on, and unhappy that she didn't get to finish, but that at the end of the day she was proud of herself and "felt accepted."
Her mom said of her daughter, "She has more courage than I've ever seen in anybody. To be able to share something so personal with everybody. That made my heart soar as a parent." Savannah's father, John, also said that he was "absolutely" proud of his daughter.
Despite the mic being cut off, a full transcript of Savannah's testimony is available via a podcast called, "I Like To Look For Rainbows." In it, she preaches acceptance and love. Acceptance and kindness, even for gay Mormons, is after all, official Church doctrine