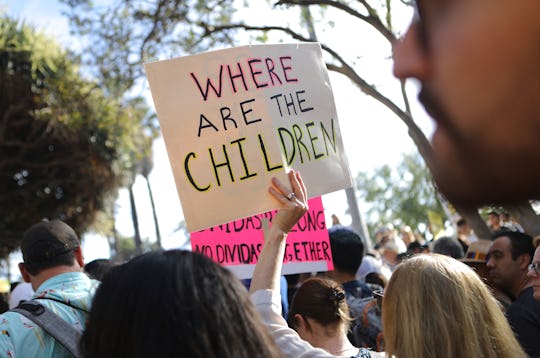 Mario Tama/Getty Images News/Getty Images
This 12-Year-Old Girl Gave An Incredible & Moving Speech About Immigration
In case you weren't aware, Saturday marked a pretty big day in America. Not only did thousands of people gather all across the nation to protest the Trump administration's immigration policy, but yet another youngster appeared to prove that the future of America is in great hands. Yeah, 12-year-old Leah Cayasso gave the best speech at the D.C. 'Families Belong Together' protest, and it's definitely something you need to check out.
While a lot of the news coverage surrounding the recent change in immigration policy has died down, there are still families being impacted by it, hence the nationwide protests were organized for Saturday. The day was filled with amazing speeches, but there was one, from a young girl named Leah, that really got people talking. According to The Cut, Leah spoke at the protest in Washington, D.C. and explained her own personal fear at the possibility of her mother being taken away from her.
"I am here today because the government is separating and detaining refugee parents and children at the border who are looking for safety," Leah cried in her emotional speech. "Our government also continues to separate US citizen children like me from their parents every day."
The young girl wasn't afraid to hold back, though, when it came to what this country has gotten wrong about immigration. As The Cut reported, her speech continued:
This is evil. It needs to stop. It makes me sad to know that children can't be with their parents. I don't understand why they are being so mean to us children. Don't they know how much we love our families? Don't they have a family, too? Why don't they care about us children?
Why do they hurt us like this? It is unfair that they get to spend time with their families today while there are children in detention centers and in cages all alone who miss their parents.
Clearly, Cayasso is an extremely well-spoken young lady, and her speech just makes it clear that the policies put into place by those in charge do have consequences, and they are hurting families, even families who are already in the United States, like Cayasso's.
Because the thing is, while President Trump might have signed an executive order to start detaining families together at the border, relatively nothing has been done to reunite the families who had already been separated.
And that's something that Cayasso touched on in her speech, because no child should ever fear being separated from their parents, no matter what. "I live with the constant fear of losing my mom to deportation," Cayasso said, according to The Hill. "ICE wants to take away my mom from me. I don't like to live with this fear. It's scary. I can't sleep, I can't study, I am stressed." The only things that 12-year-olds should be stressed about are homework and school. Maybe the occasional crush. That's all totally fine. But a 12-year-old worrying about her mother being taken away from her? That's devastating.
Cayasso had more to say, though, according to The Cut. She concluded her speech with a seriously thought-provoking question:
I am afraid that they will take my mom away while she is at work, out driving or at home. I don't understand why this administration won't support mothers who just want a better life for their children.
For a 12-year-old, Cayasso's speech was fantastic. For anyone, her speech was perfection. And while it's sad that the United States has come to a point where 12-year-old girls have to give a speech and explain their fear of losing their parents, it's still nice that Cayasso's words have already made an impact.