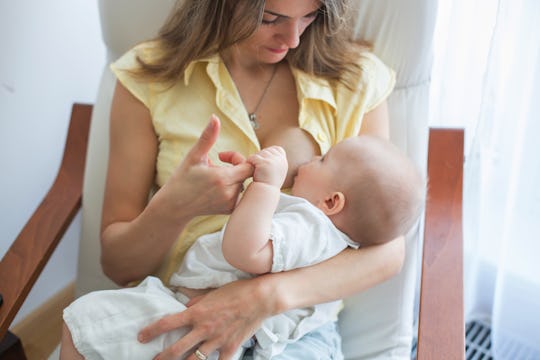 Tomsickova Tatyana/Shutterstock
13 Cute Breastfeeding Tops You'll Still Wear After Your Baby's Last Feeding
I thought shopping for maternity clothes was kind of fun. There was the excitement of dressing up my bump and the comfort of an elastic waistband. But shopping for breastfeeding shirts? Not so much. By that point, I was longing to just get back to my normal wardrobe, but not everything is practical for nursing. And let's be honest, a lot of nursing tops can look a little, well, matronly, but they don't have to be. These cute breastfeeding-friendly tops will stay in your wardrobe even after your baby's last feeding. In my opinion, if you're going to spend money on nursing tops, you need to feel good wearing them.
Both my girls arrived during sweater-wearing season, and while it was great for cozy nesting, it wasn't so great for finding clothes that easily accommodated breastfeeding. I ended up wearing a lot of nursing tanks and pairing them with cardigans. One particular cashmere cardi was my best friend, and I wore it so much that my husband probably wanted to throw it in the trash. But hey, when something works, it works!
All of the tops below are practical enough for you to easily breastfeed in while also still being cute enough to wear long after you've weaned your baby. And if you decide to have another baby — good news, some of these tops can also be worn as maternity tops, too!