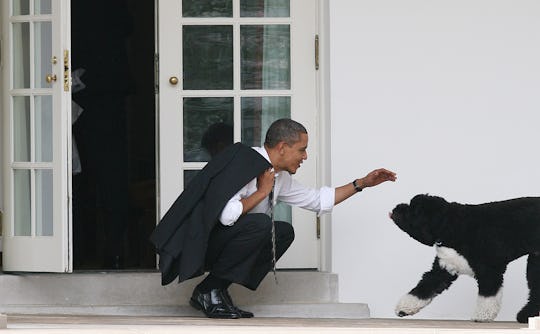 Pool/Getty Images News/Getty Images
Meet The Dogs U.S. Presidents Have Had, From The Washingtons To The Obamas
If one member of the first family is beloved by everyone, it's probably the family dog. Seriously, dogs have bipartisan appeal like nothing else. And as the dogs that US presidents have had will demonstrate, these good boys and good girls have helped run the country since its founding. Family dogs are one of the more heartwarming parts of a president's legacy.
From Washington onward, almost every US president has had a pet, as noted by the Presidential Pet Museum. In fact, plenty of surprising animals have taken up residence with the presidents, as several parrots, circus ponies, billy goats, and even alligators have called the White House home, as further noted by the Presidential Pet Museum. But it's difficult to overestimate the impact of these first dogs on the American public.
There's something so humanizing about the photographs of presidents playing with their dogs. Like anyone else, they enjoy playing fetch, cuddling, and even dressing their dogs in ridiculous outfits. The dogs, who presumably don't know anything about international politics or world leaders, are perfectly at home on the White House lawn or in a Marine Corps aircraft. Hey, if you're going to take on one of the most high-pressured and public jobs in world, it helps to have a loyal friend by your side no matter what.