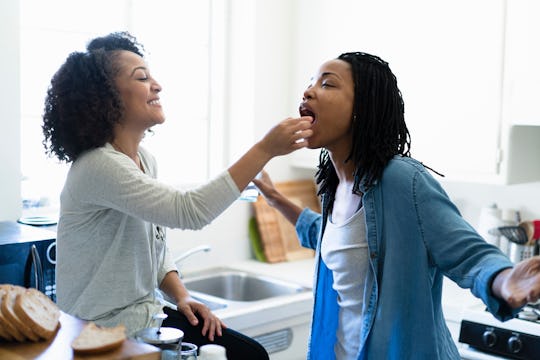 Image Source Trading Ltd/Shutterstock
13 Habits Of Happy Couples Who Live Together
Going from single living to living with your significant other can be a big step in relationships. Depending on how you do it, cohabitation can be the best or the worst step for you two to take. Living with your spouse can be a lot to handle, but finding ways to live happily aren't as difficult as you think. Although most couples think love is all that's needed to live together, being knowledgeable of some habits of happy couples who live together can make your transition from living single to happily ever after a synch.
Of course, every relationship has its ups and downs. But being able to get through those tough times together makes being in a relationship a lot easier. Living together will bring on problems bigger than the former stress of what's on the menu for dinner, and knowing how to keep each other happy will help alleviate those issues. Overall, couples have to each be willing to see each other happy and work towards their happiness together. It's not easy, but somebody's gotta do it, right?
Considering moving in with your SO soon? These 13 habits can help make sure you guys are the happiest when you do.