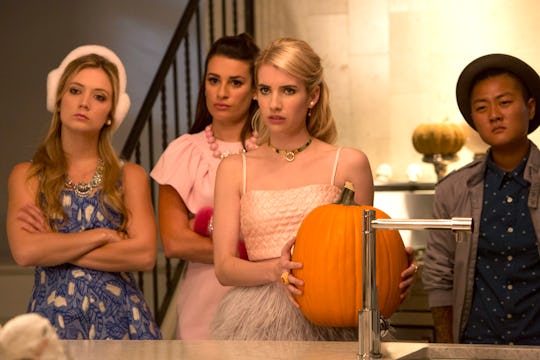 FOX
13 Halloween TV Episodes To Watch To Get You In The Spooky Spirit
October always involves binge-watching horror films, risking a crash from sugar overloads, and getting hypnotized by the changing color of leaves. It's also the best time to catch your favorite TV characters all dolled up in epic costumes, or watch some creepy sh-t befall them on Halloween. This year, you are fortunate enough to access classic episodes on Netflix, Hulu, and the like if your TV guide disappoints. As millennials, we might have aged out going door-to-door for candy, but we will always be welcome in our treasured cast's homes every October 31. This article will fill you in on 13 throwback TV episodes to watch for Halloween that will induce chills down your spine, and put a smile on your face.
You can watch in the comfort of your own home dressed as whatever your heart desires. Watching how others celebrate the holidays feels comforting, and may even give you ideas for parties of your own. And no matter how old I am, I pledge to wear a costume, watch Hocus Pocus, and stuff my face with candy corn 'til death.
Here I invite you to do something similar with episodes you don't want to miss as you cuddle up with your boo, or hold your pet hostage on the couch like me. Happy Halloween!
1. How I Met Your Mother: "Slutty Pumpkin"
HIMYM gave us plenty of treats with multiple Halloween episodes to choose from, the most notable being this one. If Marshall and Lily's costumes aren't relationship goals, I don't know what is.
2. Modern Family: "Halloween"
This is the first episode I've ever seen of the show, and it got me hooked AF. This is the most elaborate Halloween episode I've seen a show ever do. I only wish I could visit Claire's haunted house in real life to hear Gloria say "Welcome to your nightmare, ahahahaha!"
3. Shrek: "Scared Shrekless"
The gang swaps scary stories, but the best one is when Pinocchio plays out The Exorcist. There's also one with Gingy's stage-five clinger girlfriend. I don't know how this got the big thumbs up for younger audiences (because even I'm a little scared), but I'm so grateful it did because it is just as entertaining as it is haunting.
4. The Big Bang Theory: "Justice League"
This episode technically isn't Halloween — the "The Middle Earth Paradigm" is — but this one is much better. The group looks ready to take on the world in their Justice League costumes, plus their team effort and camaraderie is total squad goals.
5. New Girl: "Halloween"
Watch Nick Miller scream like a child as he goes through a haunted house. Also, spoiler alert, he winds up punching his zombified friend, Jess, in the face. The "Keaton" episode is also a really fun one if you want to see Schmidt get jumped by trick-or-treaters.
6. The Office: "Here Comes Treble"
Dwight gets his head stuck in a pumpkin, and Jim tries to help him get it off, which is really that's what makes this episode worthy of the list. If you crave more Dunder Mifflin in October, check out a two-headed Michael in "Halloween" in Season 2. There's also "Employee Transfer" in Season 5, "Costume Contest" in Season 7, and "Spooked" in Season 8.
7. Scream Queens: "Halloween Blues"
Watching this show alone freaks me out. But in this particular episode, you can watch Chanel-O-Ween, where she sends her social media followers gifts before calling them donkeys. Also, catch a creepy seance with Chad.
8. Pretty Little Liars: "This Is A Dark Ride"
I always get spooked watching this show in general, but nothing tops it's fear factor quite like the liars' Halloween specials. Plus, the girls costumes are always so well-done.
9. Boy Meets World: "And Then There Was Shawn"
What a freaky, but memorable episode. Shawn got us.
10. Friends: "The One With The Halloween Party"
Friends is already freaking amazing, but add in some costumes... and well, let's just say if you're caught in a bad mood this will easily lift your spirits thanks to Ross dressed as Spud-nik, the satellite potato (he would), and Chandler rocking the pink bunny onesie from A Christmas Story. You also hear Joey call Ross doodie, and who wouldn't want that?
11. Rugrats: "Ghost Story"
My goal in life is to be as chill as ghost Tommy. Watch this episode to see Rugrats meet Aaahh!!! Real Monsters!
12. Toy Story Of Terror
A short film where the toys stop by a hotel where havoc ensues, giving the living dolls a run for their money.
13. Peanuts: "It's The Great Pumpkin, Charlie Brown"
This one is a classic. Without the Great Pumpkin, is it really Halloween? I think not.