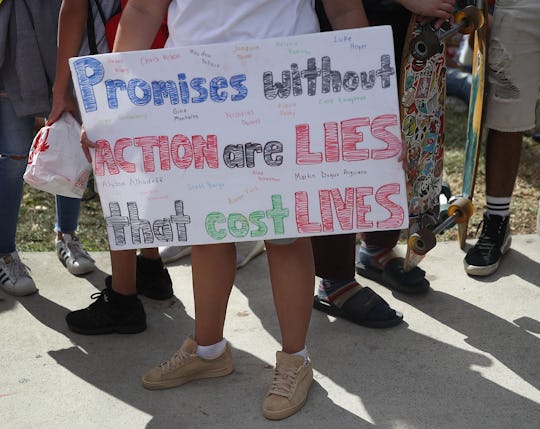 Joe Raedle/Getty Images News/Getty Images
13 Inspirational Quotes From Kid Activists To Put On Your March For Our Lives Signs
One of the most incredible silver linings of the horrific tragedy in Parkland, Florida last month has been watching young people speak so powerfully and passionately about gun control reform. Case in point: Marjory Stoneman Douglas High School senior Emma Gonzalez tearfully speaking at a gathering after the shooting and proclaiming, "We call BS!" is just one young activist who reminds us that you can never be too young to be a catalyst for change. If you or your kids are preparing to attend the March For Our Lives event on March 24, here are 13 inspirational quotes for March For Our Lives signs from kids who are changing the world.
The students who survived the Parkland shooting aren't the only kid activists on the scene at the moment. Malala Yousafzai, the Pakistani student who was attacked by the Taliban for standing up for girls' rights to go to school, has continued to make inspiring speeches about educational rights. Kid President, also known as Robby Novak, is also represented with with some inspirational gems that can help unite our divided country.
All of these kids have followed in the footsteps of great young activists like Representative John Lewis, who protested for racial justice when he was just a student himself. Here are a few encouraging words of his own, "Get out there and push, and stand up, and get in the way the same way my generation got in the way."
Here's to getting in the way and making some real change!