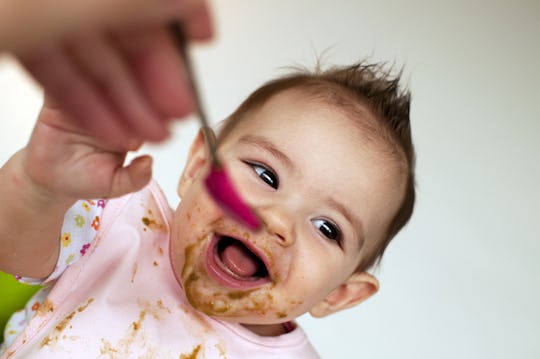 Shutterstock
13 Simple Baby Food Recipes You Can Whip Up In Your Instant Pot
Introducing your baby to solid foods is always quite the adventure, but it might be easier than ever with the help of a super-popular kitchen appliance. In fact, these baby food recipes to make in your Instant Pot just might change the way your think about how you feed your baby in general.
Using your Instant Pot to create baby food is a smart idea for so many reasons. This user-friendly pressure cooker has become a favorite in many families. For instance, part of the Instant Pot's success is due to its speedy cooking times, because everything from dried beans to rice can be prepared in a fraction of the time it normally would. Plus, the Instant Pot is relatively easy to use once you get the hang of it. Throw everything in the pot, set it, and go. You don't have to keep an eye on a hot stove, which is especially helpful when you're watching a demanding little baby. And unlike pre-packaged baby foods (which definitely have their place in many families), you can keep track of everything that goes into each meal.
Read on for some Instant Pot baby food recipes that just might turn this gadget into your new best friend.
This article was originally published on