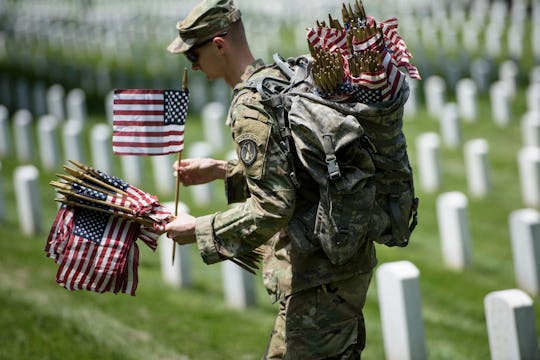 BRENDAN SMIALOWSKI/AFP/Getty Images
13 Memorial Day Quotes That Remind You What The Holiday's About
Memorial Day has been set as one of the most respected holidays in America. Though many use it as a way to have a three-day weekend of food and fun, the holiday offers more than just a day off from work. Memorial Day is a day to show your appreciation and remember those who risked their lives for the greater good of our country. When trying to the importance of Memorial Day, having some powerful Memorial Day quotes handy will help get you what you need.
Growing up, I often heard stories of family members and friends who lost their lives while serving our country, and I remember thinking about their selflessness. I think the most memorable story was about a family friend who lost his life while driving trucks overseas. Although his job was not on the front line, he sacrificed his life every day he drove the truck through the dangerous streets of his location. Just knowing that there are so many men and women who went above and beyond to ensure that our country was safe is enough to remind anyone that showing a bit of gratitude is the least that can be done on Memorial Day.
If you need a reminder of how important Memorial Day is or how impactful everyone who served our country has been, these 13 quotes can help.