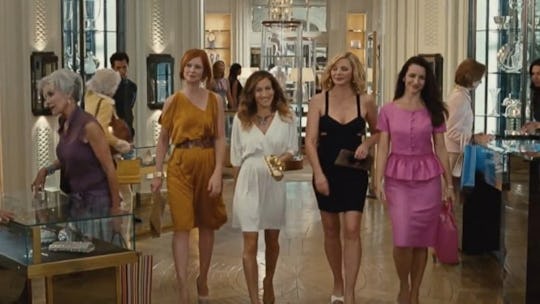 13 Outdated 'Sex And The City' Outfits That Should Stay In Carrie's Closet Forever
For six years, faithful viewers tuned in every week to see the the women of Sex And The City make their way through Manhattan (and their 30s.) Aside from being a powerful foursome, these ladies had a knowledge, be it about relationships, sex, or how to best use a Rabbit. And, above all else, they could throw together a pretty stunning outfit. Of course, not every ensemble was a winner and there were plenty of outdated Sex And The City outfits that never should have made it out of Carrie's shoe-filled closet.
If you would have told me in 2002 that Carrie Bradshaw's fearless looks would one day seem subpar and outdated, I would have laughed in your face and never spoken to you again. At the time, those giant flowers on every shirt, dress, and purse seemed so right. And now, well, they just feel silly. At least I can hold on to the fact, that for every one SATC fashion blunder, there were at least 10 amazing looks that are still draw-dropping today.
Just to prove I'm not I'm stretching the truth about these not-so-awesome ensembles, I've lined up some of the worst offenders. Take a look and these 13 outdated outfits from Sex And The City and see how many of these you would still wear today.