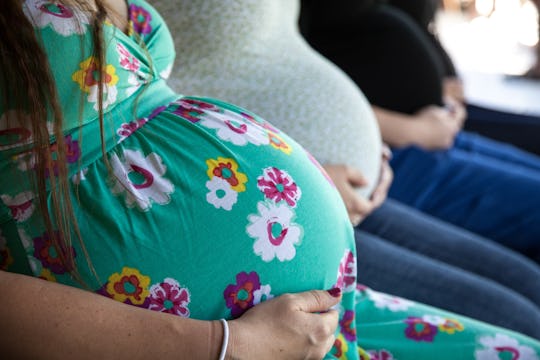 Fotolia
13 Questions And Comments Women Who Hate Being Pregnant Absolutely Dread Hearing
For some women, pregnancy is the most beautiful time of their lives; a time when they feel so in love and so in touch with their bodies; a time when they're empowered and can feel one with all things feminine and new. For other women, however, pregnancy is painful and exhausting and nauseating and scary and, well, they absolutely hate it. There are questions and comments women who hate being pregnant absolutely dread hearing; questions and comments that women who love being pregnant and consider it to be a wondrous experience, would have no problem fielding.
It should go without saying (or typing) but there's no "right" or "wrong" way to feel about pregnancy. If you loved being pregnant, that is awesome and you should feel supported in shouting your gestational bliss from the tallest mountain. If you hate being pregnant there is absolutely nothing wrong with you and, no, you're not missing some super secret maternal gene and you, also, should feel supported in sharing your distain for all things pregnancy. Honestly, gaining weight and not being able to sleep and feeling constipated and being sidelined at happy hour, just isn't everyone's cup of tea. Woman shouldn't be shamed for hating pregnancy, as there are so many aspects to growing and housing a human being that are, well, anything but pleasant.
If it were up to the women that hated being pregnant, they'd probably prefer to just be left alone with their Netflix and their pajamas while they grow their children in peace. However, every pregnant person that has ever walked this planet knows all too well that a baby bump opens up a whole slew of unsolicited interactions with other humans that insist on knowing every detail of every day of that growing baby.
There's lots of things that you should never say to a pregnant woman, some of them very obvious. However, that list tends to double if you're speaking to a woman who clearly doesn't enjoy pregnancy. Here are just a few examples: