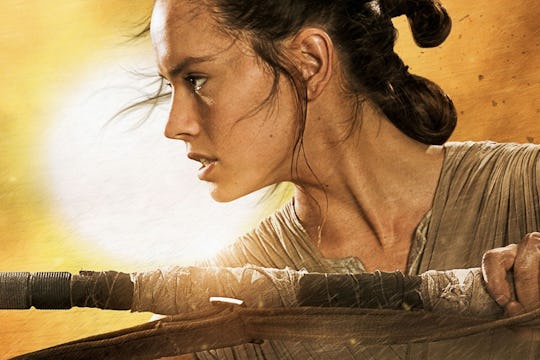 13 Reasons Rey From 'Force Awakens' Is Feminist AF — With Or Without The Force
After years of anticipation, Star Wars: The Force Awakens has finally premiered, and it's pretty much perfect. The movie is an ultimate throwback to the original films, and all of your favorite characters have returned to bring down the Dark Side. And alongside them, a new generation of Jedi fighters has arisen, and these characters are just as lovable as Luke, Leia and Han. There's the suave pilot, Poe Dameron, the charming newbie, Finn and — best of all — the amazing future Jedi Rey, who is an awesome feminist icon. (Warning: spoilers ahead.)
Rey is hands down the most exciting character in The Force Awakens, coming from nothing and proving herself to be savvy, powerful, and worthy of Luke Skywalker's lightsaber. She works with the Rebel Alliance to discover her destiny, and to live up to her true potential as the ultimate champion of The Light Side and the greatest heroine of all time. She's strong and sweet; badass and beautiful; clever and courageous.
But the truth is Rey is not simply a feminist icon: she's an icon — period. Everyone who goes to see The Force Awakens, woman or man, is going to leave in awe of Rey. She is a "force" all her own — someone you definitely don't want to mess with, but also someone you can love and feel close to if you're on her good side. She's the best heroine to grace the big screen, in the best franchise of all time (OK, maybe I'm a little bit biased.)
We should all aim to be like Rey — the perfect combination of qualities that make her an independent, influential and impressive lady. There are a million reasons we should strive to emulate her, but here's a sampling of her most feminist characteristics.