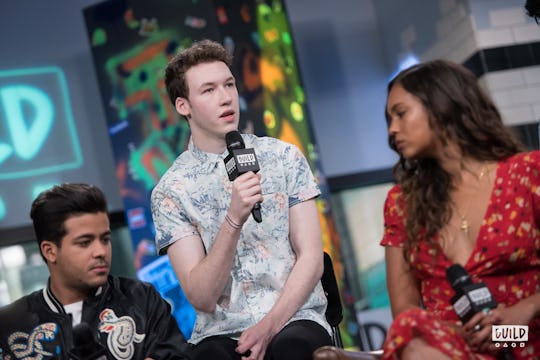 Mike Pont/BUILD Series
This '13 Reasons Why' Star Is Defending The Season's Controversial Finale
The second season of 13 Reasons Why is finally here and although the show has certainly taken a number of steps to provide more resources for viewers, it has still fallen under a lot of criticism. In particular, many viewers are upset with the way Tyler Down's gun violence storyline on 13 Reasons Why was handled. However, during an interview at BUILD Series on Monday, Devin Druid, who plays Tyler, discussed why he felt the storyline was so important. Warning: Spoilers ahead for 13 Reasons Why Season 2!
At the end of 13 Reasons Why Season 1, Tyler was seen with an arsenal of guns, along with pictures of a number of his classmates, and fans correctly guessed that he would cause a school shooting in Season 2. However, what fans were unprepared for was the circumstances that led Tyler to want to commit such a terrible act. Throughout the two seasons of the show Tyler was seen being bullied by his classmates, including Clay, in various different ways, but things took an incredibly dark turn in the finale of Season 2.
After Tyler returned school, following time in rehab, a jock, Monty, followed Tyler into the bathroom and sexually assaulted him using a mop. The graphic scene caught a lot of criticism on social media, but it was Tyler's choice to then bring what looked to be an AR-15 to school (on April 20, the anniversary of the Columbine shooting), that also sparked a lot of viewers fury. However, Druid believes that Tyler's story arc in Season 2 is important and hopes it'll spark more conversation about gun violence.
"I was really excited to have more of a character explore and a topic that is, unfortunately, so relevant in our society and our culture, especially with young people," he said at BUILD Series. Druid then went on to explain that for him the issue of gun violence is one that he's "really close to."
"I grew up in Richmond, VA, and I remember being a really young kid and being home sick and for the first time in my life really understanding that the world was unfair was sitting at home during the Virginia Tech tragedy," he shared. "So [Tyler's story] really kind of hit home."
As the youngest member of his cast (he was 18 during the filming of the first and 19 during the filming of Season 2), Druid feels incredibly close to all the topics 13 Reasons Why, but especially to this issue. For Druid, he said taking on this storyline was "intimidating," he felt that it was also significant as a way to "spread awareness and conversation" about gun violence. "Anything we can do to keep the conversation going [and] from letting that fire extinguish, and holding people's feet to the fire to hopefully move toward a solution is important," he said.
Unfortunately, many viewers and critics do not feel the same way. In an op-ed,Teen Vogue editor De Elizabeth argues the show's use of bullying as a catalyst for a school shooting, as well as Clay choosing to deescalate the situation himself rather than tell an adult, sends a bad message to teens. "This season does spend a lot of time showing the 'reasons' for Tyler's violence," she wrote. "His anger is understandable, but his actions are not justifiable—and that difference is absolutely crucial." Additionally, Elizabeth notes that if this was real life, Clay's choice to "take matters into his own hands could have been a devastating mistake."
That being said, fans of the series are defending the show's choices, mainly agreeing with Druid's viewpoint that the show is sparking a conversation that needs to be had. Whether or not you agree with how the show portrayed Tyler's story arc, it can't be denied that it got people talking.
If you or someone you know are experiencing suicidal thoughts, call 911, or call the National Suicide Prevention Hotline at 1-800-273-8255.