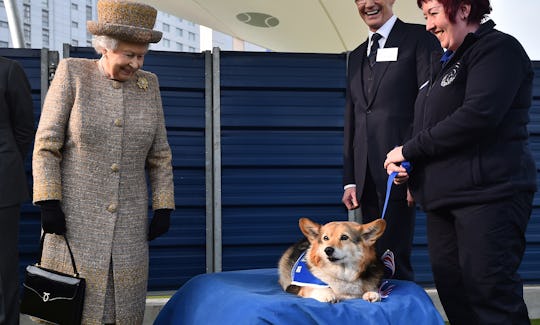 WPA Pool/Getty Images Entertainment/Getty Images
13 Surprisingly Quirky Puppy Names Given To Dogs Of The Royal Family
For decades — centuries, even — people have been obsessed with royalty. But what are actual royals obsessed with? The answer is clear: dogs. And we're not just talking about Queen Elizabeth II and her well-known (not to mention adorable) love of Corgis, either. Take a stroll through any major art museum and you'll see portrait after portrait of kings and queens posed with austere-looking pups on their laps. One might expect that these noble pets would have correspondingly dignified titles, but on the contrary: Some of the most famous royal puppy names have been seriously silly.
Maybe you've got palace-dwelling doggos on the brain because of the recent, very sad passing of Queen Elizabeth's last remaining Corgi, who suffered from a cancer-related illness, according to People. Or perhaps you're contemplating getting a pup of your own and want to give that little furball a name fit for a prince or princess. Or maybe you're just one of those aforementioned people who's obsessed with royalty and can't get enough of this particular breed of gossip. Whatever the reason for your interest, you're bound to be surprised by some of these posh pooch names.
Why do royals love dogs so much? Well, the answer, again, is clear: Because (as you always suspected), the royals are just like you.