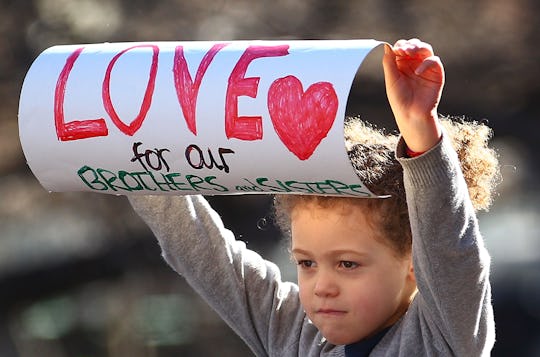 Scott Barbour/Getty Images News/Getty Images
13 Social Media Accounts To Help Educate Yourself About Race As A Parent
Supporting Black Lives Matter and the Black community means not only taking part in the ongoing fight for racial equality in America, but teaching your kids to do the same. Most of us have a lot more to learn when it comes to our part in dismantling racist systems and raising the next generation to do a better job that our own. Social media, for all its faults, can be a great place to find, follow, and learn from educators and activists doing incredible anti-racism work online.
Maybe you've been wanting to do more for a long time and the current state of affairs has galvanized you into action, or maybe the latest news helped open your eyes to a shocking reality that you can't deny. Or maybe you've been actively trying to teach your kids how to be allies from the start. There's always more to learn, more to do. And there's no time to waste.
"In white families, we cannot wait to talk about [race] with our children because segregation is so deep that if we just wait, it will never come up," Jennifer Harvey, author of Raising White Kids: Bringing Up Children In A Racially Unjust America, told NPR. "And I started doing that work with my own children before they even had words, really." In order for real change to happen, every parent needs to follow Harvey's lead. No matter how uncomfortable it might be at first, these are the conversations that need to happen. This list is by no means exhaustive, but it's a great place to start.