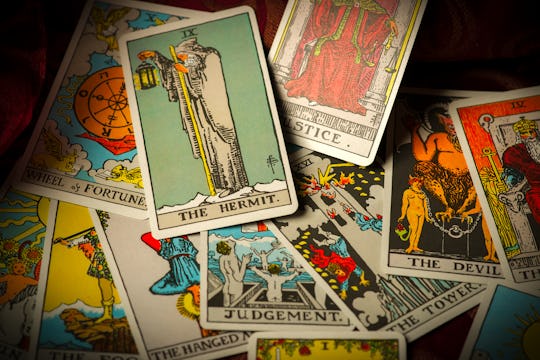 Derek R. Audette/Shutterstock
13 Tarot Cards For Moms To Reflect On, Because We Need All The Help We Can Get
When I received my first tarot deck at age 12 I was immediately hooked. But while I was drawn to all things mystical in those days, I never actually believed the cards could tell the future. I do think they're a great way to encourage people to think outside of their typical modes of understanding, though, and can present a new perspective to any situation. And since there are few situations I need insight into more than anything related to parenting, why not explore some tarot cards for moms, right? Truth be told, there are some cards in that deck that straight-up speak to my damn soul.
For the uninitiated, the deck is divided into two different types of cards, the Major Arcana, which depict allegorical or archetypical figures and events, and the Minor Arcana, which are sort of like regular playing cards divided into four suits. Each card has its own special meaning, and another meaning if the card is upside-down in the reading. (For the purposes of this article we're only talking about its "right-side-up" meaning.)
Another important thing to know is that from its inception, tarot decks were always meant first and foremost to be for fun. As far as we know, people didn't start using them for divination purposes for almost 300 years after they first appeared on the scene in late-Medieval Europe. Before then you just used them to play card games.
So in the spirit of fun and insight, let's take a look at some cards that I think might be especially useful for moms: