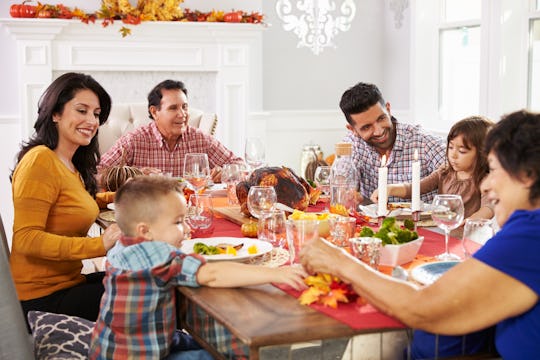 Monkey Business/Fotolia
13 Thanksgiving Quotes That Will Remind You Why We Come To The Table
Thanksgiving is a time for Americans to gather with their friends and family members and remember all of the things they are thankful for — all while consuming an exorbitant amount of calories and watching football, of course. But for everything that is heartwarming, loving, and special about the holiday, there are just as many things that can be awkward, stressful, and downright annoying. Whether you're looking forward to Thanksgiving or trying to find a reason to avoid it all together, you'll appreciate these Thanksgiving quotes that will remind you why we come to the table every year.
Growing up, my parent's house was the center of our family's Thanksgiving tradition. Everyone arrived on good terms, but once the adults finished their third glass of wine, you could always guarantee that a "healthy debate" would ensue. But once both sides had a chance to make their case, everyone managed to share dessert and laughs on the couch together.
If you're a little unsure about how you'll get through all of the political discourse that's bound to take place this year, read a few of these funny quotes that are sure to give you the extra nudge you need. And now that you can start your Black Friday shopping on Thursday, you have the perfect excuse to leave the table before your uncle starts talking about everything that's wrong with your generation.