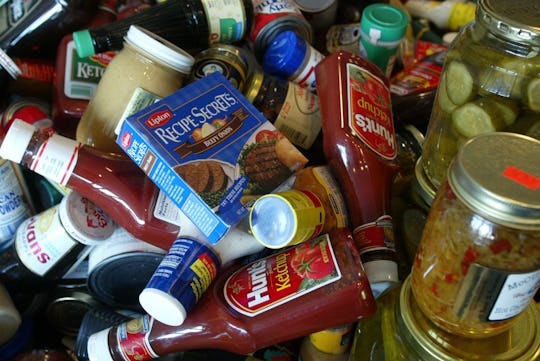 Alex Wong/Getty Images News/Getty Images
13-Year-Old Cancer Patient Uses Make-A-Wish Grant To Host Food Drive
An Idaho teen just sent the most amazing message to society. Almost three years after being diagnosed with a rare case of ovarian cancer, a 13-year-old cancer patient used her Make-A-Wish grant to host a food drive, which ended up amassing more than 13,000 pounds of food for those in need — and it's beyond heartwarming. Even though her siblings reportedly wanted her to use her Make-A-Wish grant to go on a shopping spree, as ABC News reported, Emma Allred decided instead to pay it forward.
"I was unsure what I wanted to do, so I prayed and asked the Lord and he told me to feed the homeless," Emma told ABC News on Monday.
According to Twin Falls, Idaho news site Magic Valley, Emma was diagnosed with mixed germ cell cancer three years ago when she was 10. Some time after she was diagnosed, the Make-A-Wish foundation — a national nonprofit that grants wishes to children with life-threatening medical conditions — got in touch with the Twin Falls teen and granted her a wish.
"She could have chosen anything," the director of program services for Make-A-Wish Idaho Brenda Vogt told Magic Valley. "She wished to give back. She kind of had the whole thing in her mind."
Emma told ABC News that she wanted her wish — an event named "Emma's Wish Day" — to involve her entire community. In response, hundreds of people reportedly turned up to the local Twin Falls park on Oct. 1 to lend a hand. According to ABC News, Make-A-Wish Idaho reported that the food drive brought in 13,148 pounds of canned food with the help of donations from local companies and grocery stores, as well as the local fire department and city agencies that delivered goods by the truckload.
"It grew into something none of us had any idea was going to happen," Vogt told ABC News. "It was magical, and everyone was just kind of in awe of everything that was happening."
As for Emma's current health status, she has already been through three rounds of chemotherapy and will soon undergo her fourth surgery in November, according to ABC News.
Some of the wishes that the Make-A-Wish foundation has granted in the past include sending kids to travel somewhere they've always wanted, transforming a kid into a pilot or a princess for the day, or even arranging a meeting with an iconic celebrity.
In the end, Emma did not choose any of those and decided to give back to her community. While life has thrown some difficult hurdles Emma's way, this teen's selfless act is a wonderful reminder to pay it forward when you can.