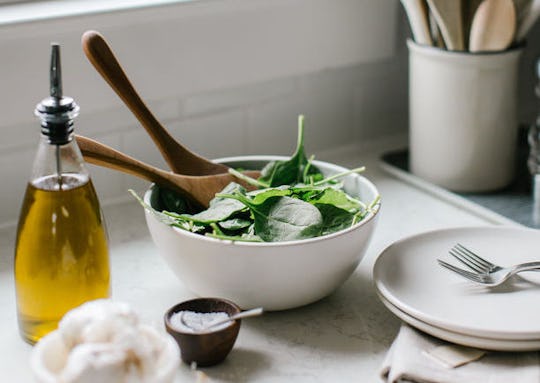 Ali Harper/Stocksy
These 14 Foods Will Kill Inflammation The Fastest, & You're Already Eating Them
If you've ever woken up after a (very fun and totally deserved) junk food fest with puffy eyes and swollen hands, you're already aware of the inflammatory effects that food can have on your body. One overly salty meal and my face puffs up like I've been crying for days. Just like certain foods can cause a full-body bloat, others can do the exact opposite. Whether you're tweaking your diet for health purposes or simply trying to de-puff, these 14 foods will kill inflammation the fastest.
If you have a health condition that causes chronic inflammation, like rheumatoid arthritis, following an anti-inflammatory diet can be an extremely helpful tool to use alongside your doctor's treatment recommendations. This, according to WebMD, means reducing or cutting out foods that are especially greasy, salty, highly processed, or overly sweet. (Yes, I know, these are some of the yummiest foods... but moderation!) Additionally, incorporating the following foods can actually help reduce and prevent further inflammation. However, revamping your diet isn't the only way to achieve this. Researchers have found that both exercising regularly and getting enough sleep are both natural ways to decrease your body's inflammatory response, according to Healthline.
Of course, sometimes new foods are easier to fit into your busy life than exercise and sleep. In that case, here are some of the best anti-inflammatory staples to stock up on.