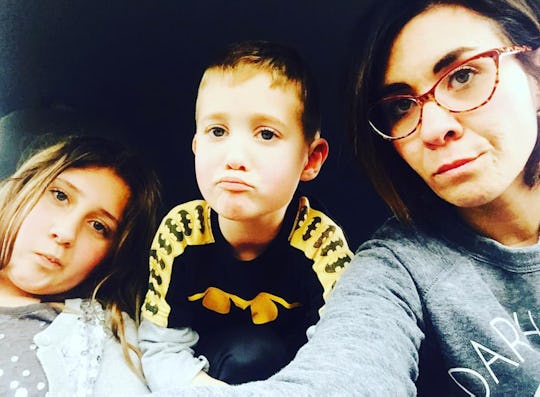 Courtesy of Candace Ganger
14 Funny Parenting Moments That'll Make You Happy You're A Mom 
Kids are freaking weird. I remember because, you know, I was one. Plus, I have two and they're even weirder than I was (which I can't believe is possible). The bright side? Along with the weird comes a whole lot of funny and a plethora of things I couldn't make up if I wanted to. Seriously, my kids are comedic geniuses ahead of their time (I'm not biased or anything) and they don't even realize it. Some of the funny parenting moments that'll make you happy you're a mom don't include any rational logic or self-awareness, either, because kids. Still, I'm so, so grateful. Without this comedy gold, my life would be pretty lame.
Before I get into specifics, let me give a quick run-down of my babies. My oldest just turned 10 and has just started the early stages of puberty. This makes her both terrifying and opinionated in the best of ways (I sympathize). There are times I'm not sure if I should laugh — like when she tried on makeup and was shimmering so much she looked like an actual star — or run away. Because, again, terrifying.
My son is 5 and still generally a sweetheart, though his adoration for movie villains is sometimes worrisome (I'm only kind of kidding). He's at the age where most of what comes out of his mouth is hilarious, and usually said at the most inappropriate time. Being their parent is challenging, but no one can look at us and say we're not having fun. I'm not exactly sure what kind of life I lived before them, because now it seems like all we do is laugh.