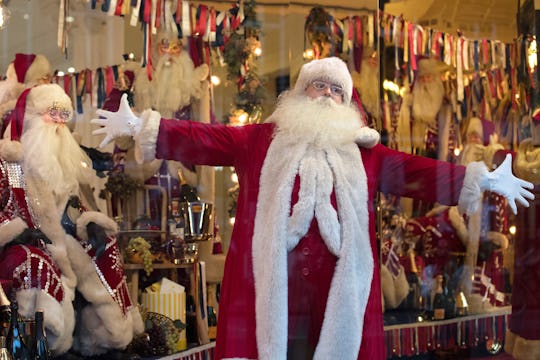 Carl Court/Getty Images Entertainment/Getty Images
14 Hilarious Christmas Instagram Captions That Will Get You All The Likes
If you celebrate Christmas, you know all about the cheery, wintry vibes that this holiday has to offer. But in the midst of planning recipes and shopping for gifts at the very last minute, it can also get extremely stressful. Doesn't Christmas seem to come earlier and earlier each year? Or is that part of becoming an actual adult? Thankfully, posting funny Christmas Instagram captions will offer a few seconds of comic relief, even if your mind feels like it's going faster than Santa on a sled.
Plus, there is a good chance that one (or many) of you followers will appreciate the laugh. This time of the year is extremely hectic, so there really isn't any room for boring, basic social media captions. We've all been preparing for this holiday for weeks, so you got to bring it in your 'gram.
Besides, if there isn't an Instagram post, did it even happen? Sharing a photo lets you show off what you and your family are up to this season through cozy holiday outfits and handmade Christmas decorations. And while they are considered funny, these captions also pair well with simple cute pictures of your little ones, even if they are just sitting around watching kids' Christmas movies because we all know that dull moments don't really exist if you have kids.
Take a look at these humorous sayings and see what speaks to you. Obviously, feel free to tweak the caption to fit your own personal Christmas and pair it with a memorable shot to capture the festivities. When looking back on this year's memories, you will be glad that you did.