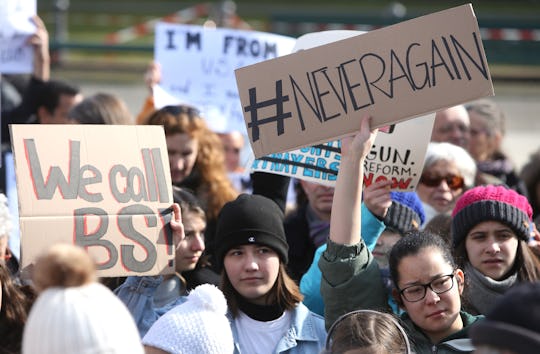 Adam Berry/Getty Images News/Getty Images
14 March For Our Lives Participants Share What They Think Could End Gun Violence
It's video games. It's bullying. It's mental illness. It's isolation. It's "kids today." It's the byproduct of all those "participation trophies." It's parents refusing to spank their children. There's a seemingly never-ending list of potential reasons why systemic gun violence continues to plague our country, but, according to a staggering number of our elected officials, easy access to high-powered weapons isn't on the list. Enter: teenagers. Romper spoke to a number of students who attended the March For Our Lives in Washington, D.C. on Saturday, March 24, and asked them to share what they believe to be the most important step toward ending gun violence. If congress continues to fail to conjure up an answer, they only have to look as far as this nation's children.
On March 14, 2018, a staggering 7,000 pairs of children's shoes were placed on the Capitol Lawn, representing the number of children killed by guns since the Sandy Hook Elementary School shooting in 2012. Since that horrific day on Dec. 14, when 20 kindergarteners and six school staff were murdered by a 20-year-old with an AR-15, our elected officials have failed to pass common sense gun laws that could have prevented further tragedies. Like the shooting at Marjory Stoneman Douglas High School in Parkland, Florida, where 17 people lost their lives. Or the shooting at Pulse Nightclub in Orlando, Florida, where 49 people were killed. Or the shooting at an outdoor music festival in Las Vegas, Nevada, where 58 people were murdered.
In the aftermath of each unspeakable tragedy, thoughts and prayers are often followed by solutions that rarely, if ever, include common sense gun laws. President Donald Trump blamed video games after the shooting in Parkland, and planned to "meet with representatives from the video game industry to discuss what they can do about real-life gun violence," according to NBC News. The president also purposed arming teachers as a reasonable solution to school shootings; a proposition the majority of Americans are against.
But the youth of this country — those who took time out of their Saturdays, and childhoods, to protest gun violence and call for common sense gun laws — have some ideas on how to end gun violence in this country. Here are just a few of their suggestions: