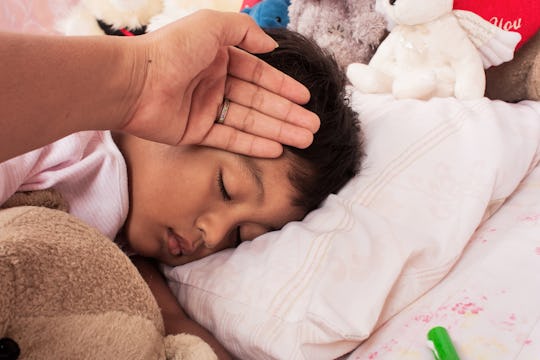 napatcha/Fotolia
14 Signs Your Child's Strep Is Turning Into PANDAS
Sometimes, the human body can be downright weird. For instance, did you know that getting a sore throat could cause your child to develop symptoms of obsessive compulsive disorder? Basically, the growing immune system can misfire in strange ways. With this in mind, if your child has recently dealt with a strep throat infection, it's smart to be on the lookout for signs your child has PANDAS.
Before diving in, it's crucial to understand PANDAS in a bit more depth. According to the National Institute of Mental Health (NIMH), Pediatric Autoimmune Neuropsychiatric Disorders Associated with Streptococcal Infection, more commonly known as PANDAS, is a condition that may affect children who have had a strep infection. . As further explained by NIMH, when the child's immune system goes to attack the strep bacteria, it may accidentally harm some of the child's own normal molecules. In these instances, a sudden appearance or worsening of obsessive compulsive behavior may occur, seemingly out of nowhere.
Although the ins and outs of PANDAS are still being researched, it does appear that the condition is treatable. With that in mind, if your child suddenly starts displaying symptoms of obsessive compulsive disorder, then a trip to the pediatrician may indicate PANDAS. In general, treatment for PANDAS may include antibiotics to treat the strep infection, as well as cognitive behavioral therapy, according to the International OCD Foundation. As always, if you're concerned about some aspect of your child's health, a trip to the pediatrician for a full check-up is wise. Until then, here are some signs of PANDAS to keep an eye out for.