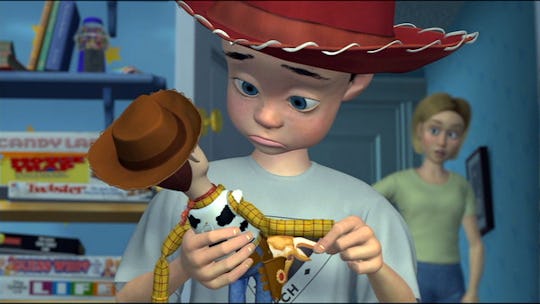 Pixar Animation Studios
15 90's Disney Character Names That Would Work For Baby
Searching for baby names is an exhausting process. If you've already been through family names and the top 100 list, but can't seem to find a baby name you both agree on, it may be time to turn to less expected places for inspiration. Like the '90s or Disney. Or maybe both. Believe it or not, there are tons of great '90s Disney character names that would work for baby names.
As a child (and honestly, to this day), part of me always wanted to be named after Belle from Beauty and the Beast, or Jane from Tarzan. Whether you were a child of the '90s or just a Disney fanatic, the films produced during that decade are some of the most loved and popular to this day. Movies like Toy Story, The Lion King, Mighty Ducks, and Pocahontas are classics that are worth passing on to the next generation. And the good new is — unless you choose a name like Hercules or Pocahontas — most of these names don't scream "I'm named after Disney character." They're real names with real meanings that just happen to have some amazing films giving them an extra boost.
Naming your child after the heroes of your childhood is the perfect way to pass on some of your favorite memories to your baby-to-be.