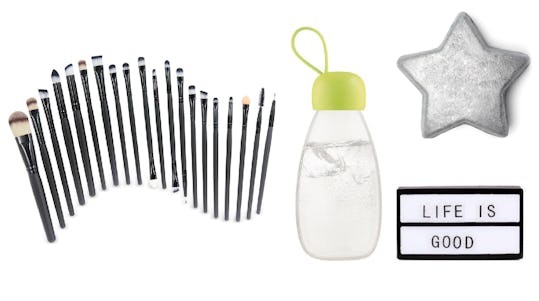 Amazon, Lush, Kikkerland
15 Awesome Secret Santa Gifts Under $10, Because You Don't Need To Go Broke To Be Thoughtful
Plenty of friends, families, and work buddies will participate in a game of Secret Santa this year, and with good reason: It's fun to receive presents from a mystery person. If you're in need of a surprise present for your own gift exchange, then allow this list of Secret Santa gifts under $10 lend you a helping hand.
Kitchen gadgets, decorative items, foods, and plants, are all excellent, affordable Secret Santa gift ideas that can be purchased for less than $10. And while some of these finds fit in the "just for fun" category, most are actually useful. It's pretty great how much you can indulge a gift recipient for so little cash.
Oh, and if it's been a minute since the last time you played the holiday game, here's a quick refresher on the basic idea. All participants enter their name into a drawing and everyone draws a random gift recipient, according to Elfster. On the day of the gift exchange, everyone gets to guess who served as their Secret Santa. It's an easy way to manage presents for large groups — even buying super cheap presents for dozens of people can really add up — and the guessing game can get pretty silly, particularly if a little wine is allowed at the party. Overall, it's a fun and inexpensive way to celebrate the holidays with more people while spending less than you normally would.